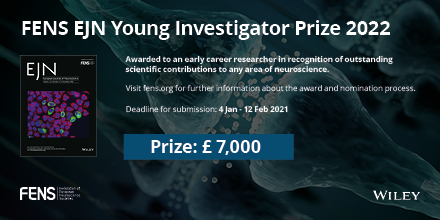 >
FENS EJN Young Investigator Prize 2022
The FENS EJN Young Investigator Prize is sponsored by Wiley (publisher of EJN). It is awarded every second year to an early career independent researcher in recognition of his or her outstanding scientific contributions to any area of neuroscience.
The awardee receives a personal prize of £7,000.
The award is be presented at the FENS Forum, where the awardee is required to give a lecture. They will also be required to write a review article for publication in EJN.
Deadline for submissions: 15 March 2021 at noon (CET)
Deadline for recommendation letters: 17 March 2021
Candidates that have obtained a PhD within the last 2 years and that were nominated before 22 February 2021 will be evaluated based on appropriate criteria, with a view to secure a recognition of the best of these nominees at the FENS Forum.
For enquiries, please contact: awards@fens.org
Award Type: Personal Award
Prize Money: 7,000 GBP
Granting Body: FENS
Eligibility: Candidates must have obtained their PhD less than 10 years ago at the nomination deadline (minus any periods of parental leave) and be either working in a European research institution or, if working elsewhere, be of European origin. Candidates may self-nominate or be nominated by fellow neuroscientists.