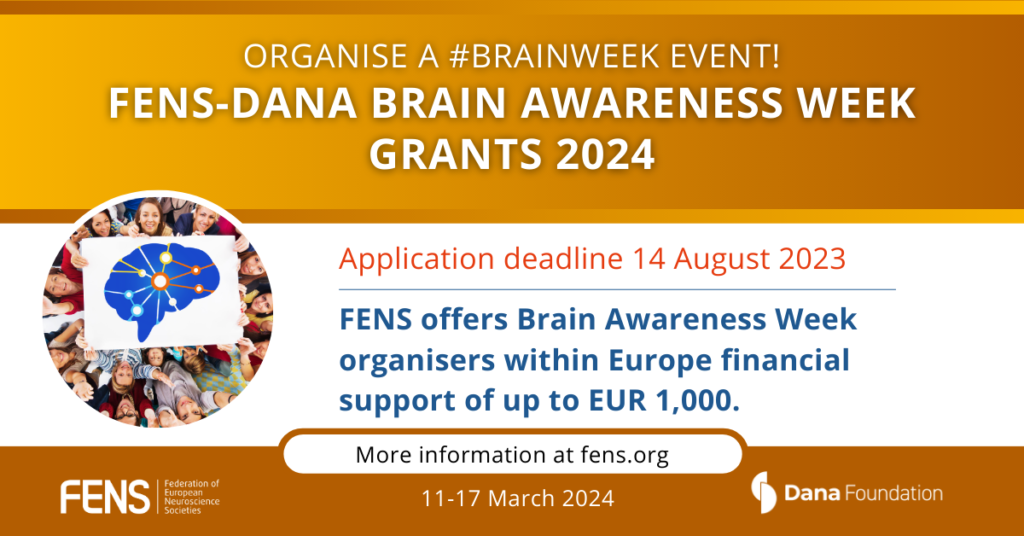 Apply now for the FENS-Dana Brain Awareness Week 2024 grants!
12 July 2023
FENS News, Neuroscience News, Society & Partner News
The call for FENS-Dana Brain Awareness Week 2024 grants is now open! On behalf of the Dana Foundation, FENS offers financial support of up to EUR 1,000 to organisers of Brain Awareness Week events within Europe. Both in-person and online events are eligible to receive funding. 
Every year, Brain Awareness Week attracts thousands of participants seeking to enhance awareness about the wonders of the brain, while exploring new avenues for outreach and gathering public support for brain science.  
 Check the eligibility criteria and apply now here. 
The FENS-Dana Brain Awareness Week Grants are designed to educate the public about the advancements and benefits of brain research. FENS offers various resources to assist organisers in preparing their outreach events. These resources include:  
Webinars: "Running a Brain Awareness Week event in 2022".

 

Workshops: "Running a Brain Awareness Week event in 2021."

 

PowerPoints

 

Tips and grants

 
 Explore all the available resources on our website here!  
 Application period  
The application period is open from 12 July until 14 August 2024. 
When is the next BAW edition taking place?  
The 2023 edition of Brain Awareness Week will take place on 11–17 March 2024. 
Join us in promoting brain research and educating the public. Apply for the grants today and contribute to the success of Brain Awareness Week 2024! 
About Brain Awareness Week
Organised by the Dana Foundation, Brain Awareness Week (BAW) is an opportunity to let people know about the progress that is being made in brain research as well as progress in the diagnosis, treatment and prevention of disorders of the brain, such as Alzheimer's, Parkinson's, stroke, schizophrenia and depression. 
About the Federation of European Neuroscience Societies (FENS) 
Founded in 1998, the Federation of European Neuroscience Societies is the main organisation for neuroscience in Europe. It currently represents 44 national and single-discipline neuroscience societies across 33 European countries and more than 22,000 member scientists. Discover FENS and subscribe to our biweekly News Alert, with information on our latest calls and activities. 
About the Dana Foundation 
The Dana Foundation is a private philanthropic organisation based in New York dedicated to advancing neuroscience and society by supporting cross-disciplinary intersections such as neuroscience and ethics, law, policy, humanities, and arts.