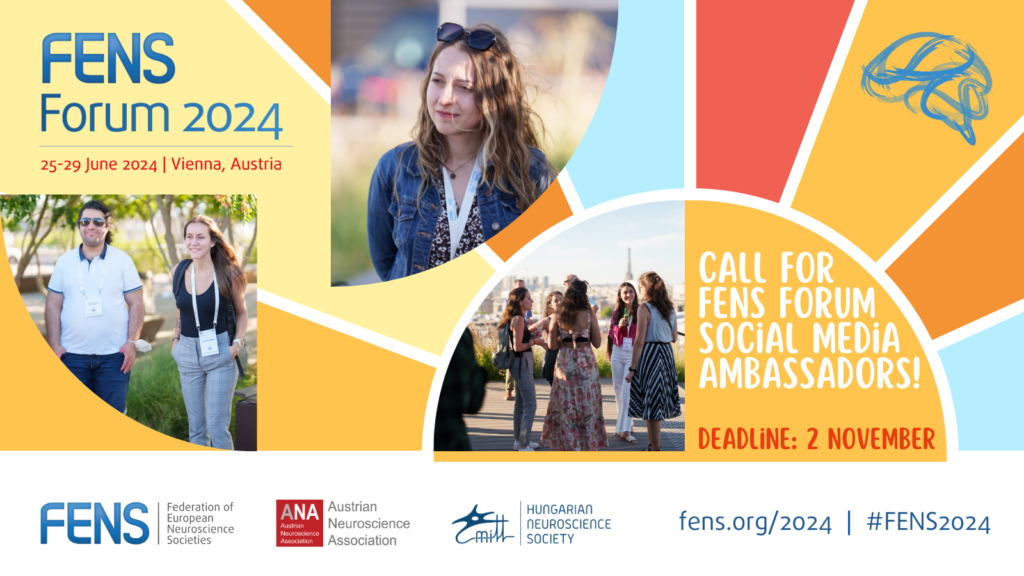 Become a #FENS2024 Social Media Ambassador!
02 October 2023
FENS News, Neuroscience News
Are you planning to attend the FENS Forum 2024, taking place from 25-29 June, in Vienna, Austria? Do you use social media and do you like promoting neuroscience regularly?
The FENS Forum 2024 is looking for the next Social Media Ambassadors! If you plan on attending the FENS Forum 2024, you can become a Social Media Ambassador and get first-hand experience in event promotion by supporting Europe's largest neuroscience congress. We invite you to share your interest in collaborating with us by 2 November by filling out the short form available on the FENS Forum website. You can play an active role in promoting the FENS Forum 2024 and be part of a community passionate about creating and sharing neuroscience content. This is your chance to meet and work alongside the FENS Forum team, share views on the future of neuroscience with other ambassadors and get behind-the-scenes access to Europe's top neuroscience meeting!
What are the attributions of a Social Media Ambassador?
Help promote #FENS2024 via Social Media and word of mouth

Share #FENS2024 news and updates with your Social Media network prior to and during the FENS Forum 2024, sent by FENS Office

Develop relevant content connected to #FENS2024 prior to and during the FENS Forum 2024

You are encouraged to take photos in the congress centre and share information related to FENS Forum events during the Forum days (from 25-29 June 2024)

Connect and stay in touch with other Social Media Ambassadors, helping each other get access to relevant neuroscience updates
Key dates:
2 October 2023 – opening the call

2 November 2023

– closing the call for FENS Forum Social Media Ambassadors