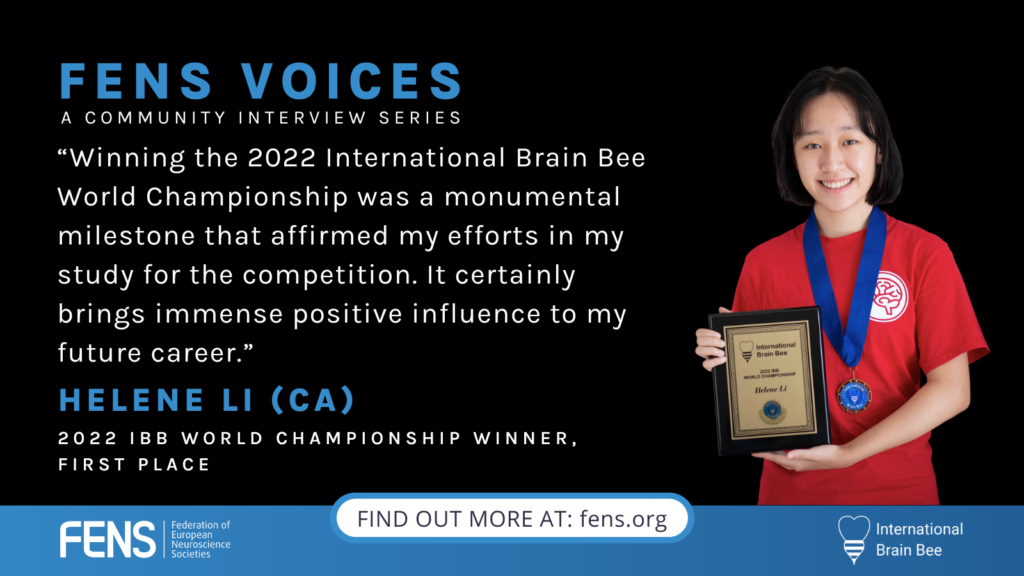 FENS Voices | Helene Li: Becoming a Brain Bee champion
10 November 2022
FENS News, Neuroscience News
Helene Li, a Grade 10 student in the International Baccalaureate program at Merivale High School in Ottawa, Canada, became the 2022 world champion of the International Brain Bee (IBB). FENS was excited to host the award ceremony and celebrate Helene's achievement at the opening of the FENS Forum 2022 in Paris, France. As a governing partner, FENS continues to be a proud and enthusiastic supporter of the IBB which was founded in 1998 with the mission to motivate students to learn about the brain and to inspire them to pursue careers in neuroscience so they can help treat and find cures for brain disorders. By recognising and highlighting the talent of the next generations, the IBB helps to ensure the advancement of brain research and improve brain health in the future. As Helene looks ahead, she plans to incorporate additional neuroscience sessions into her school's Science Club and encourage her peers interested in neuroscience to keep learning about the brain and perhaps even compete in the next IBB competitions. FENS caught up with Helene to find out more about her interests and aspirations.
Read the full interview below.
Helene, you won the 2022 International Brain Bee World Championship. How does it feel to be a world champion?
HL: Winning the 2022 International Brain Bee World Championship was a monumental milestone that affirmed my efforts in my study for the competition. It certainly brings immense positive influence to my future career. I was overjoyed when I received the neuroanatomy/neurohistology award and first place on such a large platform at the FENS Forum 2022 in Paris, France. Looking back, I am happy to have taken up the challenge. As a high school student who purely fuelled her curiosity for the brain through the Brain Bee, it was unfathomable for me to dream of achieving such a result in the World Championship. I am very honoured to achieve success on the international stage.
When did you first hear about neuroscience? Did your family or the place you grew up play a role in developing an interest in science?
HL: Although my parents do not work in science fields, their support plays a foundational role in my achievements and aspirations. My interest in science began by attending various science fairs with my parents' encouragement. The diverse projects that older students showcased inspired me, and I hoped to become involved. I became interested in neuroscience because of my desire to discover novel treatments for neurological disorders not yet with cures.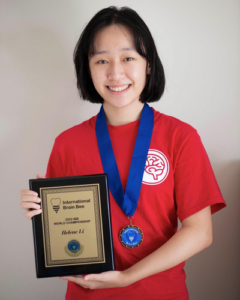 What are your other hobbies?
HL: My hobbies include playing the piano and volleyball in my free time. I also enjoy reading a variety of different texts, including novels and, now, scientific publications. I believe that reading is essential to improving my writing and comprehension abilities. I also like reading biographies to gain valuable insight from others' experiences. After competing in the Brain Bee, I can now better enjoy reading neuroscience publications.
How would you define the brain?
HL: The brain is an intricate structure whose many mysteries remain undiscovered. The hundred billion neurons in our brain demand high precision in their "wiring" to coordinate our wide range of activities. Even a tiny misconnection could result in consequences that adversely affect the brain's function. Many neurological disorders negatively impact the daily lives of a large population globally as their treatments and cures are still under research. As a whole, I am drawn to the brain because of my desire to solve some of these unknowns one day. I will strive and continue my study in neuroscience to contribute to the efforts made by neuroscientists worldwide.
How did you hear about the IBB? Was 2022 the first time you competed in the Brain Bee?
HL: I first discovered the Brain Bee a year ago through watching a video shared by a senior student about her competing experience. The competition appeared to be a rewarding and unique experience for high school students. Thus, I started my journey by reaching out to the Ottawa Brain Bee in January 2022. Their introductory modules (available online) helped me understand the fundamental concepts. I am very grateful for the guidance and encouragement from my mentors from the Ottawa and Canadian National Brain Bee. This year was my first time competing in the International Brain Bee, and I was very excited, although nervous, to challenge the exam. I appreciated this opportunity sponsored by FENS in 2022 because this competition has accelerated my understanding of the brain.
What was the reaction of your family and friends after hearing that you became the 2022 world champion?
HL: My parents have always encouraged me to become a scientist, as their efforts greatly contribute to society. They were rather excited and touched at each stage of my success: locally, nationally, and internationally. Additionally, I was delighted to have received many messages of congratulations from my teachers and peers, who heard the news through media reports. The Brain Bee is well-recognised in my country and at my school, but my success on the international stage still brought a surprise. I am glad to have brought honour to my community.
Gatherings are very important in the career of a scientist, as they offer the possibility to network and exchange ideas with peers. What did you learn from your peers during the competition? What were the most interesting answers and advice that you and other students received from neuroscience mentors?
HL: As a student who highly values communication, I actively seek opportunities through which I can develop these competencies because I believe that being able to connect with others is essential to becoming a scientist. The IBB World Championship has brought together many world-renowned professors and passionate students. In the career panel and keynote lectures of the IBB, I broadened my horizons and learned about the diverse career pathways that the guest speakers have pursued related to neuroscience. They had shed some light on the outlook of skills in demand, such as computer programming. Additionally, after speaking with the brilliant competitors, I realized they all have diverse interests apart from neuroscience. This once again highlighted to me the importance of being a well-rounded student.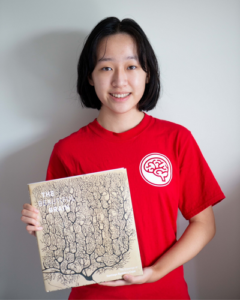 Who are your neuroscience superheroes and why?
HL: I have many role models who inspire me because of their passion for their work. My mentors for the Brain Bee dedicated their time and energy to organizing the Brain Bee and teaching the future generation of neuroscientists. Their passion for cultivating their students' curiosity and their volunteer spirit is very impressive. I was more knowledgeable and confident to compete in the Brain Bee thanks to their mentorship. 
Another inspiration comes from the accomplished Brain Bee alumni who have made progress in many areas after the competition, such as establishing the International Youth Neuroscience Association (IYNA) to provide a platform of communication for the next generation of neuroscientists. 
The advancements made by neuroscientists are also my source of inspiration. One example is the recent discovery of molecular mechanisms of temperature and touch receptors by Nobel laureates Drs. David Julius and Ardem Patapoutian for the 2021 Nobel Prize in Physiology or Medicine. I felt that their research was very meaningful as I recognized their discoveries from my IBB textbooks.
My role models also inspire me to take the initiative to bring neuroscience to others and learn for life. I hope to have the same motivated spirit as them. 
About International Brain Bee (IBB)
The International Brain Bee was incorporated in 2018 as a non-profit educational organisation. The IBB's Board is comprised of six governing partners: the Alzheimer's Association, the American Psychological Association (APA), the Dana Foundation, the Federation of European Neuroscience Societies (FENS), the International Brain Research Organization (IBRO) and the Society for Neuroscience (SfN). Other partners and sponsors of the IBB include Leadership Initiatives, the International Youth Neuroscience Association and CollegeAdvisor. 
About the Federation of European Neuroscience Societies (FENS)
FENS is a governing partner of the International Brain Bee. Founded in 1998, the Federation of European Neuroscience Societies is the main organisation for neuroscience in Europe. It currently represents 44 national and single-discipline neuroscience societies across 33 European countries and more than 22,000 member scientists. Discover FENS and subscribe to our biweekly News Alert, with information on our latest calls and activities.