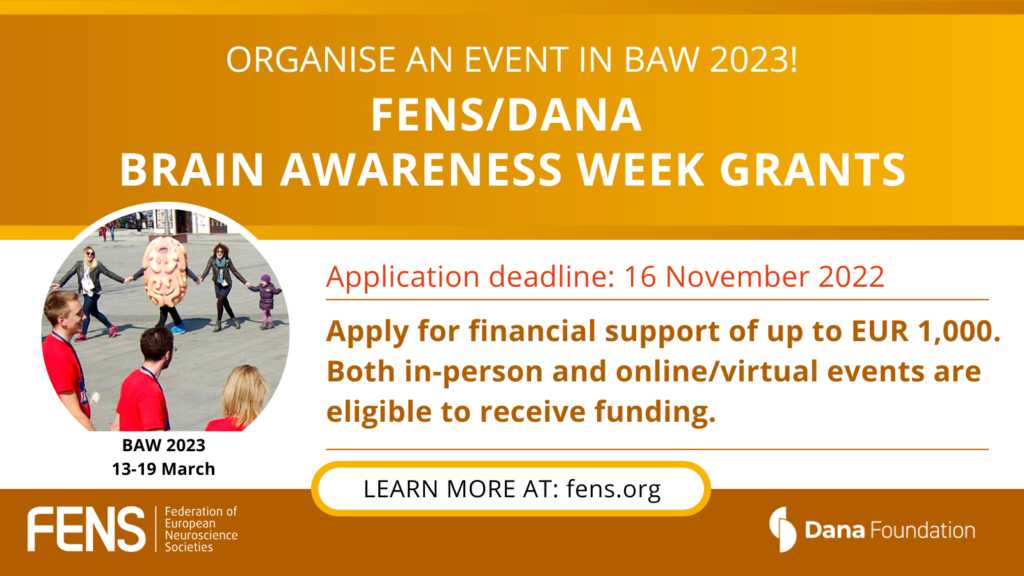 Call for applications: FENS-Dana Brain Awareness Week 2023 Grants
12 October 2022
FENS News, Neuroscience News
The FENS-Dana Brain Awareness Week 2023 Grants are now open!
Brain Awareness Week organisers within Europe can apply for financial support of up to EUR 1,000. Both in-person and online/virtual events are eligible to receive funding.
Thousands of people participate in Brain Awareness Week and use this opportunity to increase awareness about the wonders of the brain and find new opportunities for outreach and public support for brain science.
Check the eligibility criteria and apply now here.
The FENS-Dana Brain Awareness Week Grants aim to educate the public about the benefits of brain research. FENS also provides resources to help organisers to prepare their events such as:
Webinars: "Running a Brain Awareness Week event in 2022".
Workshops: "Running a Brain Awareness Week event in 2021."
PowerPoints
Tips and grants
Find out more here.
Application period 
12 October until 16 November 2022.
When is the next BAW edition taking place? 
The 2023 edition of Brain Awareness Week will take place on 13-19 March.
About Brain Awareness Week
Organised by the Dana Foundation, Brain Awareness Week (BAW) is an opportunity to let people know about the progress that is being made in brain research as well as progress in the diagnosis, treatment and prevention of disorders of the brain, such as Alzheimer's, Parkinson's, stroke, schizophrenia and depression.
About FENS 
FENS is the voice of European neuroscience, representing 44 neuroscience societies across 33 European countries and over 21,000 neuroscientists. Its activities span five broad areas: scientific meetings, higher education and training, the European Journal of Neuroscience, outreach and advocacy and membership.
About the Dana Foundation 
The Dana Foundation is a private philanthropic organisation based in New York dedicated to advancing neuroscience and society by supporting cross-disciplinary intersections such as neuroscience and ethics, law, policy, humanities, and arts.