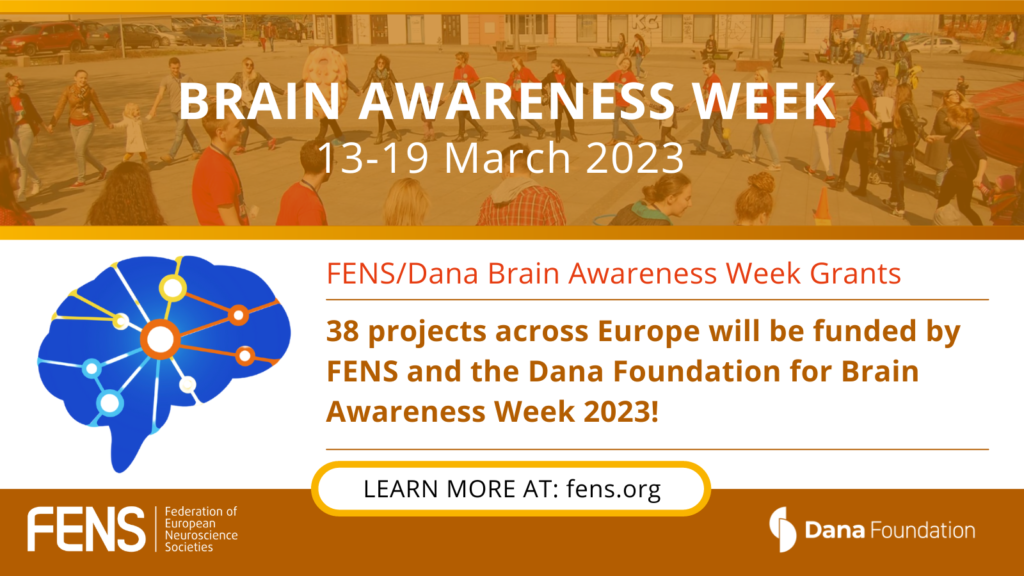 Celebrate Brain Awareness Week on 13-19 March 2023 with FENS!
09 January 2023
FENS News, Neuroscience News, Society & Partner News
FENS is celebrating Brain Awareness Week 2023 across 22 countries in Europe with these 38 projects funded by FENS with the support of the Dana Foundation!
Armenia
Neuron: From Birth to Death
Hamlet Torosyan, Yerevan State Medical University, Armenia
Belgium
Lab heroes: how do animals help in neuroscience research?
Alba Lopez-Moraga and Victoria Aurora Ossorio Salazar, KU Leuven, Belgium
Ann Van Der Jeugd, Leuven Brain Institute, Belgium
Bosnia and Herzegovina
Svetlana Borojevic, Faculty of Philosophy in Banja Luka, Bosnia and Herzegovina
Croatia
22nd Brain Awareness Week Rijeka
Alen Saric (University of Rijeka, Croatia)
Cyprus
Take Care of your Brain:  Contest and Campaign
Margarita Zachariou, Cyprus Institute of Neurology and Genetics, Cyprus
Estonia
Neuroscience, Medicine and Society
Miriam Hickey, University of Tartu, Estonia
France
How your brain controls your movements
Laurence Lanfumey, Inserm, France
Edouard Pearlstein Institut de Neurobiologie de la Méditerranée, France
The brain: the perpetual student!
Marcela Perrone-Bertolotti, University Grenoble Alpes, France
Germany
Tiago Outeiro, University Medical Center Gottingen, Germany
Greece
On the structure and function of the brain in health and disease
Vassilis Raos, University of Crete, Greece
Hungary
The amazing brain and its discovery by neurotechnology
Timea Bacskai, University of Debrecen, Hungary
 Eva Pandur, University of Pécs, Hungary
Ireland
Michelle Roche, University of Galway, Ireland
Italy
This is your brain on videogames – How digital gaming and VR shapes our gray and white matter
Francesco Di Muro, University of Milano-Bicocca, Italy
HOBIT 3 - How our brain innovates thinking
Dionigi Mattia Gagliardi, Numero Cromatico, Italy
Netherlands
Bryan Da Costa Souza, Donders Institute for Brain, Netherlands
Rotterdam let's explore the wonders of our viBRAINt community!
Anderson Mora-Cortes, Erasmus University College, Netherlands
Connections: More than just neurons!
Jeniffer Sanguino Gómez, Association of Spanish Scientists in the Netherlands, Netherlands
Poland
Brain Days in Tri-City 2023
Wojciech Glac, University of Gdansk, Poland
Neurobiological aspects of stress
Kinga Szydłowska, Nencki Foundation, Poland
Agata Żmijewska, University of Warmia and Mazury in Olsztyn, Poland
Portugal
Let's play with the Brain! 
Joana Amaral, iMed.ULisboa, Portugal
Can we keep our brains healthy to live better and longer?
Maria Correia, NOVA Medical School, Portugal
Romania
My Curious Brain Fifth Edition: The Brain and Mental Health
Ioana Podina, University of Bucharest, Romania
Slovenia
Brain Awareness Week 2023: On the tip of the tongue
Erika Škerlj, Slovenian Neuroscience Association (SiNAPSA), Slovenia
Spain
Broadening the Autism Spectrum: from Neuroscience to Challenging Gender Stereotypes
Jennifer Enrich-Bengoa, Universitat Autonoma Barcelona, Spain
Neuroscience Secrets To A Sharper Brain: Discovering How A Healthy Lifestyle Could Boost Your Brain Health
Isabel María Martín Monzón, University of Seville, Spain
Santiago Ramón y Cajal: Meet The Father Of Neuroscience
Jose A. Morales-García, Complutense University of Madrid, Spain
Brain Awareness Week at the Hospital Nacional de Parapléjicos 2023: re-discovering the Neuroscience on site
Cristina Ortega, National Hospital of Paraplegics, Spain
Switzerland
From neuronal circuits to mental concepts, behaviour and social relationship: free public lectures, discussion platforms and associated events on current neuroscience research topics
Anne-Catherine Feutz, University of Basel, Switzerland
Come, listen, watch and touch - The return of the live Brain Week in Lausanne
Ulrike Toepel, Lemanic Neuroscience, Switzerland
Turkey
Havva Demir, Yeditepe University, Turkey
The brain in sickness and health
 Ahmet Taskiran, Sivas Cumhuriyet University, Turkey
Ukraine
Andrii Cherninskyi, Bogomoletz Institute of Physiology, Ukraine
United Kingdom
Syanah Wynn, University of Birmingham, United Kingdom
The Bristol Neuroscience Festival - The claw! How the brain controls our movements and bionic limbs
Genevieve Yvon-Durocher, University of Bristol, United Kingdom