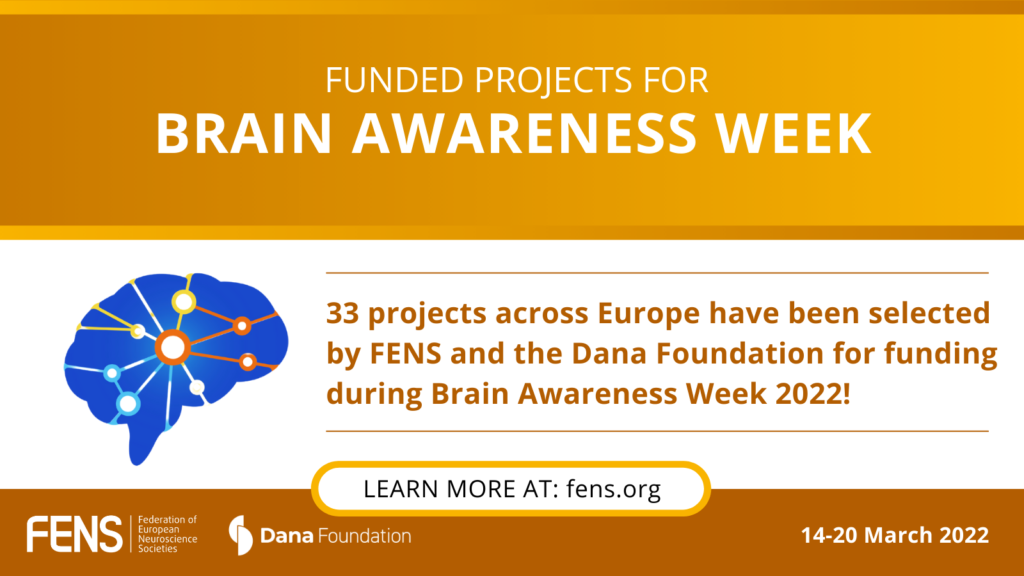 Celebrate Brain Awareness Week on 14-20 March 2022 with FENS
14 March 2022
FENS News, Neuroscience News
FENS is celebrating Brain Awareness week across 19 countries in Europe with these 33 projects funded by FENS with the support of the Dana Foundation!
Belgium
Care4Brain: Accelerate research, improve health!
Ann Van Der Jeugd (Leuven Brain Institute, Belgium)
Bosnia and Herzegovina
Neuroscientists in all of us 
Sandra Stojić (ELTE PPK, Budapest, Hungary and Faculty of Humanities and Social Sciences, University of Mostar, BiH, Bosnia and Herzegovina)
Croatia
The Active Brain during a Pandemic
Dr Ana Šimunić (University of Zadar, Croatia)
Dr Dinko Smilovic (Croatian Institute for Brain Research, Croatia)
Denmark
Brain-storm: a scientific journey
Dr Anne Rahbek-Damm (Biotech Research and Innovation Center, University of Copenhagen, Denmark)
France
Events for the Brain Awareness Week 2022 in Tours: how art performance can improve public outreach to brain disorders
Dr Yves Tillet (INRAE, France)
BAW on the French Riviera, "Face to face with our brain"
Jacques Noel (University Cote d'Azur, France)
Germany
Brain Awareness Week Berlin (BAW Berlin)
Dr Claudia Blum (Cluster of Excellence NeuroCure, Germany)
Greece
Online and in-person events of the Hellenic Society for Neurosciences during Brain Awareness Week 2022
Dr Panagiotis Politis (Hellenic Society for Neuroscience, Greece)
Ireland
Launch of Journey Through The Senses: Synaesthesia AR Gallery
Dr Svetlana Rudenko (Technological University Dublin, Ireland)
The BrainFM: Tuning into the Modifiable Risk Factors of Dementia
Dr Anusha Mohan and Magda Kaczmarska (Trinity College Dublin, Ireland)
Tics, sleep, and Covid-19: An interactive event for parents and children with tic disorders in Ireland
Lisa Keenan (University College Dublin, Ireland)
Italy
Abuse, neglect, violence and brain damage consequences: from research to prevention
Dr Antonio Virgili (Corpo Italiano di San Lazzaro, Italy)
HOBIT 2022: II EDITION - SUPERNORMAL STIMULUS
Dionigi Mattia (Gagliardi Quasar Institute For Advanced Design, Italy)
Lithuania
Leva Petkute (Association Dementia Lithuania, Lithuania)
Poland
"Neurobiology of the COVID-19 pandemic"
Prof. Elżbieta Pyza (Uniwersytet Jagielloński, Poland)
The mysteries of neuroplasticity
Dr Kinga Szydlowska (Marceli Nencki Foundation for Supporting Biological Sciences, Poland)
Brain Days in Tri-City (Dni Mózgu w Trójmieście in Polish)
Dr Wojciech Glac (University of Gdansk, Poland)
Portugal
Talk Neuro to me (in Portuguese: "Fala-me Neuro")
Rui Rodrigues (Instituto de Medicina Molecular, Faculdade de Medicina da Universidade de Lisboa, Portugal)
Carolina Caetano (CIBB – Centre for Innovative Biomedicine and Biotechnology (CNC-UC – Center for Neuroscience and Cell Biology of the University of Coimbra - and iCBR – Coimbra Institute for Clinical Biomedical Research, Portugal) )
LESS RARE - Fostering the knowledge and dissemination of Machado-Joseph Disease through ART, SCIENCE AND EDUCATION
Dr Catarina Miranda (University of Coimbra, Portugal)
Romania
SMART BRAIN'S CONNECTIONS
Dr Cristian Gurzu (National College Nicolae Balcescu, Romania)
Dr Mihai Stancu (SOMS/Carol Davila University of Medicine and Pharmacy, Romania)
Russia*
9th St.-Petersburg Brain Awareness Week "Signal Propagation"
Dr Irina Sukhotina (Pavlov First St.-Petersburg State Medical University, Russia)
The 1st neuroscience conference for children.
Dr Sofya Kulikova (HSE University, Russia)
Serbia
Power of the mind: The evolution of intelligence
Andrea Novaković (Student section of Serbian neuroscience society, Serbia)
Slovenia
Brain Awareness Week 2022: Embodied
Nika Jerman (SiNAPSA, Slovenian Neuroscience Association, Slovenia)
Spain
XI Brain Awareness Week – The Science of Brain Windmills. Organized by the Medical School of Ciudad Real.
Dr Javier Frontiñan-Rubio (University of Castilla-La Mancha, Spain)
Roser Bastida Barau (Institut de Neurociències de la UAB, Spain)
Brain Awareness Week 2021: discovering neuroscience at the Hospital Nacional de Parapléjicos
Dr Juliana Rosa (Hospital Nacional de Parapléjicos, Spain)
Turkey
Let's remove socio-economic boundaries: lighting up neurons
özge selin çevik (Mersin University, Turkey)
Ekin Kanicioglu (Bilsem, Turkey)
Ukraine
Brain Days with Bogomoletz Institute of Physiology
Dr Andrii Cherninskyi (Bogomoletz Institute of Physiology, Ukraine)