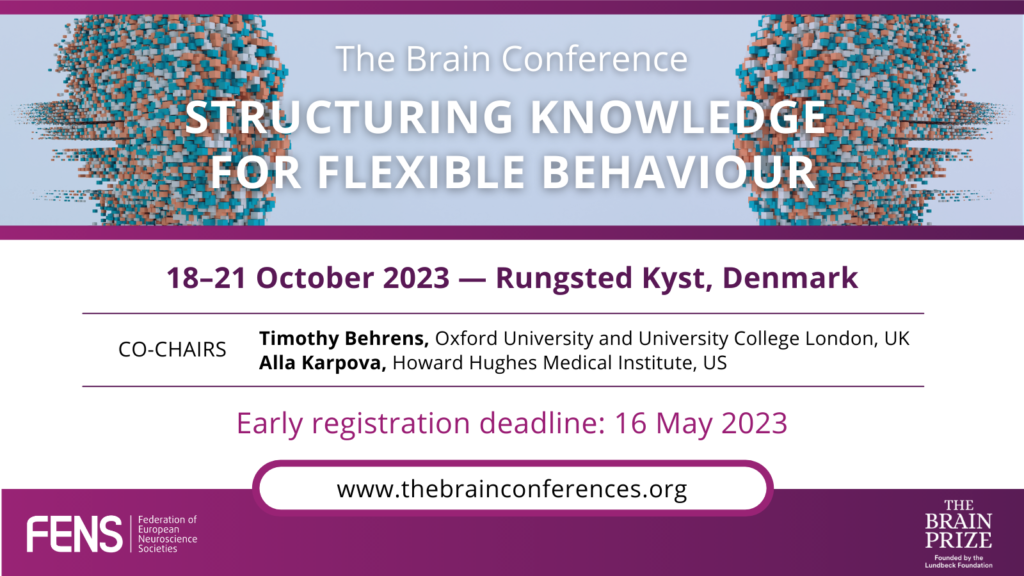 Discover the Brain Conference "Structuring Knowledge for Flexible Behaviour"
30 March 2023
FENS News, Neuroscience News
FENS is delighted to announce the opening of registration for the Brain Conference "Structuring knowledge for flexible behaviour", taking place on 18-21 October 2023 in Rungsted Kyst, Denmark.
When we walk into a new restaurant, we know when the bill will arrive, and we know the food that we are paying for. Human brains have an internal relational model that represents the connections between objects and events, which enables the application of old information to new contexts and leads to appropriate behaviour. Chaired by Timothy Behrens (UK) and Alla Karpova (US), this meeting will reveal early insights into how such representations can be learned from memories or even from language.
How can I attend the Brain Conference?
First of all, you will need to create a FENS user account in order to apply for this meeting. You can register here. If you already have an account, you can log in by following this link. Afterwards, you can register at this link!
Save on registration fees by applying before the early registration deadline on 16 May 2023!
More information and registration! 
Meet the Chairs!
Tim Behrens is a Professor of Computational Neuroscience at Oxford University and University College London (UK), and a Wellcome Trust Principal Research Fellow. His work investigates the neural mechanisms that control behaviour across scales from cells to brain regions across mammalian species.
Alla Korpova is a Senior Group Leader at the Janelia Research Campus of the Howard Hughes Medical Institute (US). Her lab investigates the neural basis of natural intelligence in rats.
The Brain Conferences
One of the core objectives of FENS is to foster knowledge exchange through scientific meetings, which provide a wide range of learning, networking and professional development opportunities for the neuroscience community. The Brain Conferences are high-level meetings that bring together outstanding researchers in key areas of contemporary neuroscience. Taking place in Rungsted Kyst, Denmark, in the proximity of the country's capital, Copenhagen, the participants will have the opportunity to network with top international neuroscientists and meet with their peers in order to discuss hot topics, underline current challenges and define the brain research of tomorrow. Two conferences per year are organised by FENS in collaboration with the Lundbeck Foundation, the awarder of the Brain Prize.
FENS – Federation of European Neuroscience Societies
The Federation of European Neuroscience Societies is the voice of European neuroscience, representing 44 neuroscience societies across 33 European countries and more than 22,000 neuroscientists. Its activities span five broad areas: scientific meetings, higher education and training, the European Journal of Neuroscience, outreach and advocacy and membership.
Lundbeck Foundation
The Lundbeck Foundation is a foundation that aims to improve people's health and lives by supporting research at the highest level within biomedicine and the natural sciences. The Lundbeck Foundation awards the world's largest brain research prize, The Brain Prize, to brain researchers who have had a ground-breaking impact on brain research.