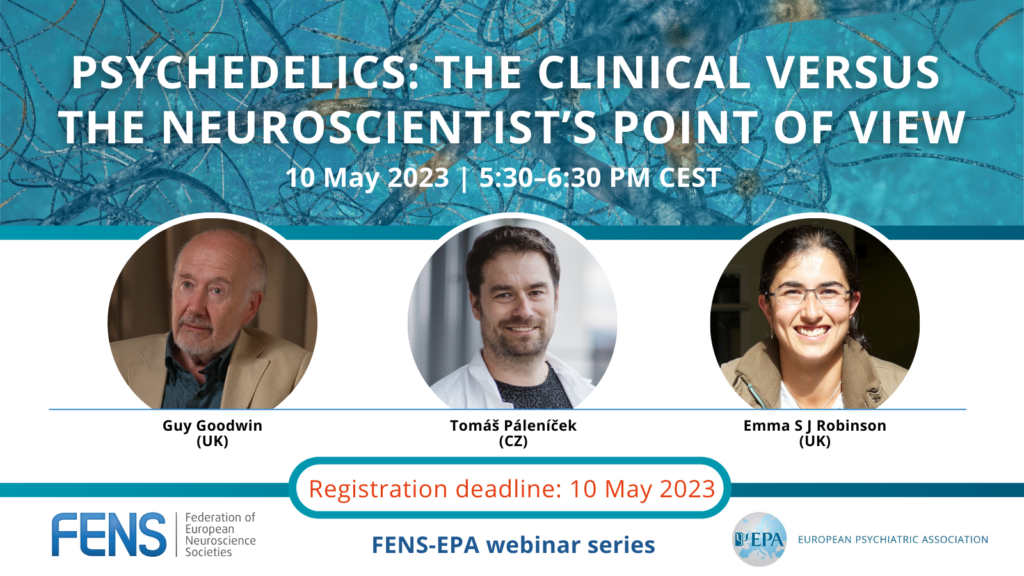 Discover the first FENS-EPA webinar: Psychedelics, the clinical versus the neuroscientist's point of view
12 April 2023
FENS News, Neuroscience News
The overall environment where patients receive psychedelics is allegedly extremely important, with many possibilities of personalisation: music, paintings, low intensity lights, or the presence of a psychotherapist during the session.
Beyond anecdotal experiences, the science behind such proposals and the level of medical evidence supporting these aspects are relatively weak and need more clear descriptions.
Psychedelics have now been tested (usually successfully) in a broad spectrum of psychiatric disorders such as major depressive disorder and resistant depression, anorexia nervosa, OCD, PTSD or alcohol use disorder. This makes it difficult to understand what the real psychiatric target of these drugs is.
The first FENS-EPA webinar aims to understand the present indications of psychedelics, and compare their chances of success (effect-size) in the different indications.
Meet the moderator and speakers! 
Prof. Tomáš Páleníček (CZ), National Institute of Mental Health – Chair
Prof. Guy Goodwin (UK), Compass pathways and University of Oxford – Speaker
Prof. Emma S J Robinson (UK), University of Bristol – Speaker
When is it taking place? 
10 May, 17:30 – 18:30 CEST
For detailed information (the full programme, speakers) and registration: check the webinar page
About FENS – Federation of European Neuroscience Societies
The Federation of European Neuroscience Societies is the voice of European neuroscience, representing 44 neuroscience societies across 33 European countries and more than 22,000 neuroscientists. Its activities span five broad areas: scientific meetings, higher education and training, the European Journal of Neuroscience, outreach and advocacy and membership.
About EPA – European Psychiatric Association 
EPA is the main association representing psychiatry in Europe. Founded in 1983, its activities address the interests of psychiatrists in academia, research and practice throughout all stages of career development. It deals with psychiatry and related disciplines and focuses on the improvement of care for the mentally ill and on the development of professional excellence.