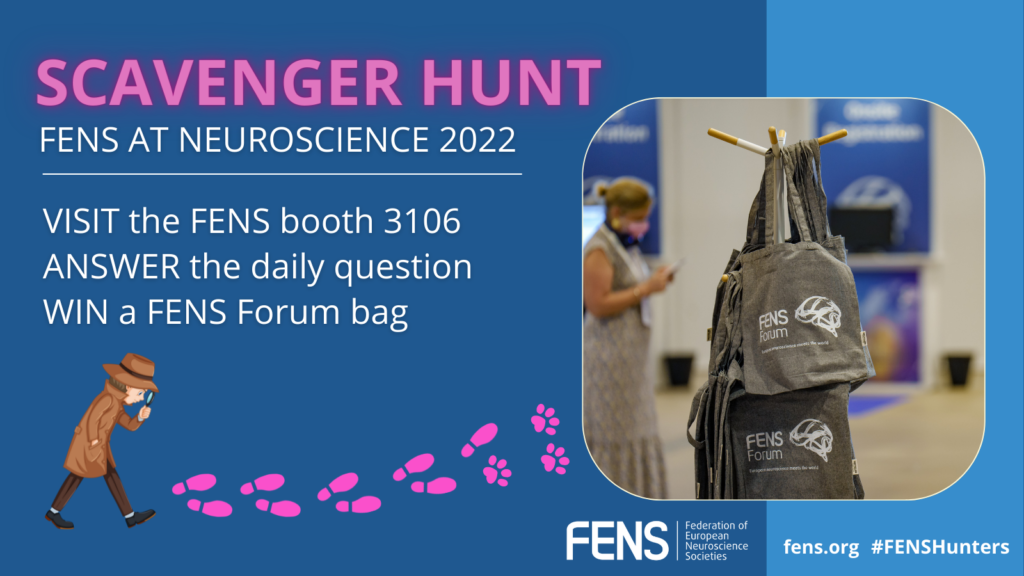 FENS Scavenger Hunt at Neuroscience 2022!
10 November 2022
FENS News, Neuroscience News
Are you attending Neuroscience 2022, SfN annual meeting? 
FENS is inviting the neuroscience community to participate in the scavenger hunt taking place from13 to 15 November 2022. 
You just need to come to the FENS booth and put your FENS knowledge to the test. Answer our daily questions correctly, and you will win a free FENS bag! 
How to participate? 
Quickly check the

FENS website

.

Come to the FENS booth 3106, Hall C, Exhibition Hall, Non-Profit area. 

Answer the question correctly.

Be the first to win a fantastic FENS bag! 
Warning! 
FENS is offering one bag per day, so make sure to be the first to reach the FENS booth! 
When would the winners be announced? 
FENS will contact the winners via email and prepare an announcement to be published on the last day of Neuroscience 2022 on our social media channels and website.