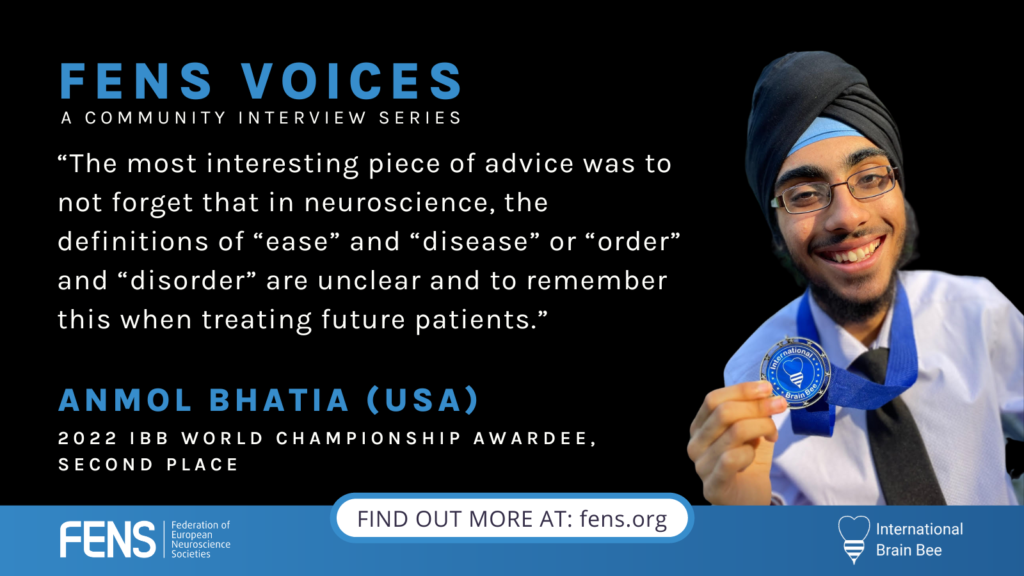 FENS Voices | Anmol Bhatia: How to grow Brain Bees
08 December 2022
FENS News
Anmol Singh Bhatia is a senior at Watchung Hills Regional High School in New Jersey, USA, who won 2nd place at the 2022 International Brain Bee. He is especially interested in the mechanism of addiction and hopes to find better treatments for those with substance abuse disorder in the future. Aside from neuroscience Anmol enjoys singing, music and playing tennis with his friends. He aspires to study medicine in the future. Read the full interview below.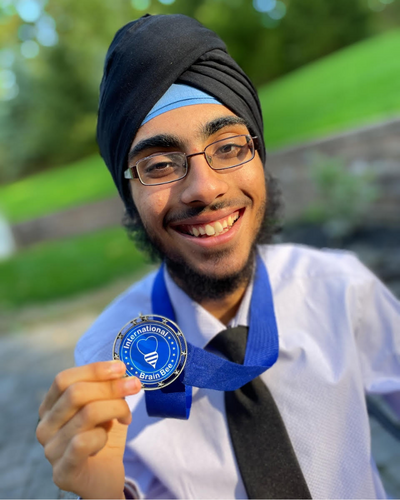 You obtained second place during the 2022 International Brain Bee World Championship. How difficult was it to reach the final stage of the competition and how did it feel to be surrounded by so many inspiring people?
AB: It was challenging and nerve-wracking but also fun. Winning the live round was especially exciting for me. The entire experience validated all the hours I spent studying. It felt great to be surrounded by not only inspiring professors and physicians but also students passionate about neuroscience. I was inspired throughout the competition, especially during the special lectures. Since I sing and play two instruments, I found the Neuroscience and Music lecture by Joseph LeDoux especially interesting, and it opened my eyes to different career paths in neuroscience.
At what age did you develop a passion for neuroscience?
AB: I suffered from migraines as a child and always wondered why my brain hurt. In eighth grade, my interest was further sparked after hearing a talk on post-traumatic stress disorder. Since then, I've always been curious about how the brain makes decisions.
What do you enjoy doing in your free time?
AB: I enjoy playing tennis with my friends, biking, chess, and video games. I'm also improving my juggling skills right now.
If you would be asked to best define the brain in one word, what would it be?
AB: Mysterious. What draws me to neuroscience is that whenever I try to answer one of my questions, I'm left with many more. For example, I always wondered how the brain processes visual information. I eventually learned it was through the layering of the visual cortex, but then I wondered how the brain translates this information into a conscious experience.
How did you first hear of IBB and when did you first compete?
AB: I first heard of the IBB in middle school, and I first participated in 9th grade, but I didn't get very far then.
What was the reaction of your relatives when they heard you were one of the top 3 winners of the IBB World Championship?
AB: I attended my cousin's wedding immediately after the brain bee. It was extra special since I was surrounded by all my relatives congratulating me. They were very happy for me.
What did you learn from your peers during this year's competition? Could you share the most interesting advice that you and other students got from neuroscience mentors?
AB: During our ethics seminar, my group expanded my view on medical ethics and taught me that negotiation between family and patient is extremely important when making difficult treatment decisions. The most interesting piece of advice was to not forget that in neuroscience, the definitions of "ease" and "disease" or "order" and "disorder" are unclear and to remember this when treating future patients.
Who are your biggest inspirations and why?
AB: My family, who constantly encourages me to do my best, and the professors at Rutgers NJMS, who taught me neuroscience.
What are your plans for the future?
AB: I want to pursue a career in academic medicine as a neurologist. I hope to research how the brain gets hijacked by addictive substances.
About International Brain Bee (IBB)
The International Brain Bee was incorporated in 2018 as a non-profit educational organisation. The IBB's Board is comprised of six governing partners: the Alzheimer's Association, the American Psychological Association (APA), the Dana Foundation, the Federation of European Neuroscience Societies (FENS), the International Brain Research Organization (IBRO) and the Society for Neuroscience (SfN). Other partners and sponsors of the IBB include Leadership Initiatives, the International Youth Neuroscience Association and CollegeAdvisor.
About the Federation of European Neuroscience Societies (FENS)
FENS is a governing partner of the International Brain Bee. Founded in 1998, the Federation of European Neuroscience Societies is the main organisation for neuroscience in Europe. It currently represents 44 national and single-discipline neuroscience societies across 33 European countries and more than 22,000 member scientists. Discover FENS and subscribe to our biweekly News Alert, with information on our latest calls and activities.