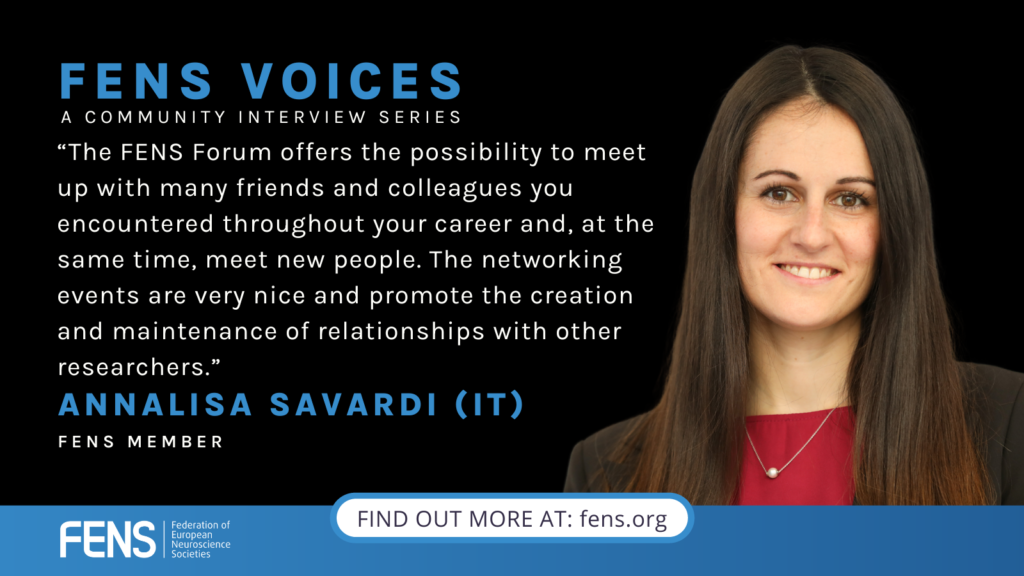 FENS Voices | Annalisa Savardi: A cross-disciplinary journey – from biotechnology and neurobiology to drug discovery
21 July 2023
FENS News, Neuroscience News
In this edition of FENS Voices, we found out about Dr Annalisa Savardi's latest research findings and why FENS Forum 2024 is important for an early career researcher. Dr Savardi obtained her BSc in Medical Biotechnology at the University of Milan (Italy), which was followed by an MSc Neurobiology at the University of Pavia (Italy). Her thesis was on the role of the synapse protein SNAP-25 in neurological disorders, and she worked under the supervision of Professor Michela Matteoli (Humanitas Institute). She obtained her PhD in Neuroscience at the University of Genoa (Italy), under the supervision of Dr Laura Cancedda. Currently, she holds the position of Neuropharmacology Team Leader at IAMA Therapeutics, a recently founded series-A pharmaceutical company developing NKCC1 inhibitors to treat brain disorders.  Annalisa has a strong background in neurobiology, pharmacology, behavioural, biochemistry and cell biology techniques, with 8 years of experience in CNS drug discovery. Read the full interview below.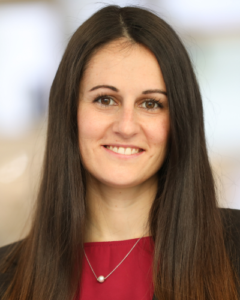 What do you like most about being part of the neuroscience community? Why is it important to take part in the FENS Forum?
AS: Being part of a neuroscience community like FENS is incredibly valuable and essential for every researcher in the field. Exchanging ideas, experiences and suggestions and the possibility to set up collaborations during conferences like the FENS Forum is key to developing successful work and releasing superior results. This can also happen virtually, of course (as we learned during the pandemic), but attending an in-person meeting is crucial to strengthening more effective relationships and collaborations – where you directly encounter people and engage in conversation.
What makes the FENS Forum fun for an early career researcher?
AS: Besides the scientific perspective (which is also fun), it is very nice to have the possibility to meet up with many friends and colleagues you encountered throughout your career and who now are working in different places and, at the same time, meet new people. The networking events which are organised during every Forum are very nice and promote the creation and maintenance of relationships with other researchers, as well as the fun evening at the Jump the FENS party.
Who is your neuroscience role model nowadays and which scientist did you admire while growing up?
AS: While growing up, I admired two outstanding neuroscientists: Camillo Golgi and Rita Levi Montalcini. I was maybe quite biassed, because they are both Italians and Camillo Golgi was born in my small town (Corteno Golgi) which indeed took the name "Golgi" in his honour. As a child, I saw a Golgi marble bust in front of the entrance of my school every day and I heard many times about all of the discoveries he made. In particular, I was very fascinated by his "reazione nera" (black reaction). I admire his multidisciplinary genius, since he had incredible findings not only in neuroscience but also in the treatment of malaria, cellular organelles and many others. I admire Rita Levi Montalcini not only for her outstanding work but also for her passion, resilience and tenacity. She was a woman researcher born into a Jewish family and, as she was caught in the context of World War II, into a society where the "two X chromosomes represented an insurmountable barrier even to enter high school", as she mentioned and described in her autobiography "Elogio all'imperfezione" (English title: "In praise of imperfection").
Nowadays, I do not have a specific hero. From the moment I started doing neuroscience research, my mentors represented a source of daily inspiration. The incredibly passionate professors I met during the university period, the experts and professors I met at the conferences offered suggestions and ideas on how to improve or develop further my projects. I think that what makes a scientist a very good scientist and a mentor (besides her/his valuable discoveries and works) is the ability to convey the passion for the research to young people and use her/his own experience to advise and support colleagues and new generations of the younger researchers.
Talking about Camillo Golgi and growing up in Corteno Golgi, how did you get acquainted with science? Did your parents have a scientific background?
AS: As a child, I was fascinated by nature and having been born and grown up in a small mountain town, I had the opportunity to spend most of my childhood outdoors, exploring nature. I loved walking through the forest classifying tree leaves or watching and raising my family's animals, with the curiosity to understand how all those things that surrounded me worked. Indeed, my parents do have a scientific background, albeit not in biology or medicine. They have passed on to me a passion for the scientific disciplines and since my first years of school, I have especially loved the scientific courses, particularly mathematics and science. It was during middle school and high school when I started to study biology that I got interested in understanding how our body works, what happens when we get sick and why there was still no treatment for so many diseases. This curiosity and desire to learn new things, doubled by the will to help people suffering, led me to start thinking about pursuing my studies in the medical field. I am very grateful to my parents, who have always encouraged and supported me to follow my passions.
Why did you choose to study medical biotechnology and why did you focus later on neurobiology? What attracted you to brain research?
AS: To be honest, medical biotechnology was not my first choice. My first choice was indeed to study medicine to satisfy my wish to directly support people. Unfortunately, because of the limited number of positions, I failed the entrance exam. Luckily, in parallel, I passed the admission test to study medical biotechnology, where I applied following the suggestion of some friends. My idea was to take advantage of one year of study in the field so that I could be ready to reapply for medical school next year – in case I failed the first time. But things went differently. For personal reasons, the year after I decided to not reapply, but instead continue the courses in medical biotechnology. Although I was very interested in all of the new knowledge I was acquiring, I felt a bit restless thinking about my future because I did not feel any strong passion for any specific field (immunology, cancer, etc.) that I had studied until that moment. I felt that I lacked the driving force behind everything I was supposed to do in my professional life and that I was studying for knowledge per se, without any specific goal in mind for my future. Things changed once I attended the first neuroscience course held by Professor Michela Matteoli. When she first introduced us to how the brain and synapses work and after seeing her passion for neuroscience, she triggered my curiosity for this extremely complex and fascinating organ. From those days onward, I did my best to obtain the position as an intern for the BSc thesis in her lab, where I took my first steps in the world of neuroscience. After that very exciting experience, I decided to continue studying the brain by doing my MSc in Neurobiology at the University of Pavia.
What are your best memories from your studies period? Do you remember encountering any obstacles?
AS: I have many wonderful memories from my university years. I felt independent in my choices and in search of my own path, alone in a city of a million people. For those coming from large cities, this is normality, but for someone coming from a town of 2000 inhabitants it is an experience in itself. So, for me it was already amazing being there. I met many great professors, motivated colleagues and very good friends. I think that the best memories came from my MSc in Neurobiology, where I found the perfect match to nurture my great passion for neuroscience and all the other knowledge I was acquiring. I was surrounded by great colleagues and friends with whom I studied and discussed neuroscience and, at the same time, with whom I also had a lot of fun. All the courses that I attended were very inspiring and professors were able to pass on to us their true passion for neuroscience and scientific research. If I could give myself one piece of advice in hindsight that would be "take your time, enjoy your university years and the internship period without rushing to conclude everything according to a schedule". During my five years of university, I did my best to have the exams and thesis discussions (both BSc and MSc) in the first semester, also refusing a period abroad (the Erasmus Programme) to not delay my "schedule". I would not repeat that.
Regarding the obstacles, I did encounter some, like any 19-year-old person who needs to decide what to do as an adult, leaving his/her family to continue studying, with the hope of having made the right choice. I mentioned some previously: having failed the admission to medical school, the anxiety of feeling "lost", not knowing what to do in the future and not knowing what my passions were. In the end, I found my way. I think that facing and overcoming the obstacles that each of us encounters along the way helps us to grow personally and professionally to find our own right path.
For your MSc, you wrote a thesis on the role of the synapse protein SNAP-25 in neurological disorders. Afterwards, you continued your research by doing your PhD in Neuroscience at Istituto Italiano di Tecnologia (IIT) and the University of Genoa. Why did you focus on the discovery and characterisation of a new drug candidate, aimed at ameliorating core symptoms in Down syndrome and autism models?
AS: Since the last year of my BSc, I have been very attracted to general pharmacology and at the same time to neurological/neurodevelopmental disorders. This passion has grown even more during both internships for the BSc and MSc degrees, where I had the opportunity to study the involvement of the synaptic protein SNAP-25 in neurological diseases. Following these experiences, I decided to continue my path in translational neuroscience research, with the hope to contribute to the field. Thus, I decided to apply for a position in Dr Laura Cancedda's lab, fascinated by the lab's work on Down syndrome and possible therapeutic interventions. I was very lucky to have the possibility to start from scratch, together with the computational chemistry and medicinal chemistry team directed by Dr Marco De Vivo, a new project on neuroscience drug discovery to find new drug candidates for neurodevelopmental disorders like Down syndrome and autism. I was very excited! During those years I learned and performed with the team all the early processes of drug discovery from the screening of libraries of compounds to the setting of in vitro assays to test the compound and finally to the lead optimisation and in vivo tests for efficacy. Currently, I am still learning many new aspects of advanced preclinical studies on the road to reaching clinical phases, making my workday a learning experience.
What made you want to further study epilepsy in Down syndrome?
AS: During my PhD fellowship, I studied different neurodevelopmental disorders including Down syndrome, which regrettably still has unmet medical needs. Over the years, I got very involved in the field, searching for a possible therapeutic strategy for ameliorating brain-related symptoms of these conditions. In this regard, I learned that one of the most debilitating disturbances in people with these conditions is represented by the onset of epilepsy, which represents a common comorbidity to many neurodevelopmental disorders. For this reason, our lab decided to investigate the mechanism underlying the commonly increased susceptibility to seizure in this population, to be able to study and test new possible therapeutic interventions. To further investigate these aspects, I applied for a postdoctoral fellowship grant as principal investigator hosted by Laura Cancedda's lab. I am very glad and thankful to the Jerome Lejeune Foundation and the Sisley-D'Ornano Foundation for funding this project on early therapeutic intervention for the treatment of epilepsy and hyperactivity in Down syndrome. I know children with neurodevelopmental disorders and I know how hard and devastating it is for them and their families to deal with seizures. It is an important field that research needs to investigate profoundly, to give these people a better quality of life.
You have experience in neurobiology, pharmacology, behavioural and biochemistry techniques and CNS drug discovery. What do you enjoy most about your research? 
AS: Neurodevelopmental disorders, depending on the degree of severity, can be very devastating conditions for both the affected individuals and their families. I find incredibly exciting the thought that the new compound we developed from the very early stages will be tested in the human phase I study as a drug candidate to be then pushed forward to phase II studies in neurological conditions (if proven safe in the first trial in humans). What motivated me the most was the hope and the will of having a real impact on the life of these people and their families. This drives me and gives me the strength to face and overcome daily difficulties. What I enjoy most during my daily activities is keeping myself continuously updated on new research in the field, studying and learning new things. Based on that, I really like designing and planning new experiments and discussing them with other researchers and experts in the field. In particular, I love to learn more about the clinical practice related to the conditions we are studying in the preclinical phase, to be able to design experiments that need to be translational and as close as possible to what is performed in clinical practice.  
Currently, you are the Neuropharmacology Team Leader at IAMA Therapeutics. Can you tell us more about the process of developing NKCC1 inhibitors to treat brain disorders?
AS: At IAMA Therapeutics, our goal is to develop selective NKCC1 inhibitors for the treatment of neurological conditions. NKCC1 is an ion transporter expressed in the brain and its expression and function are important to maintain a correct GABAergic transmission. Several studies, including ours, report that NKCC1 expression is altered in diverse neurological conditions, including Down syndrome, autism spectrum disorders and epilepsy. During my PhD fellowship, in collaboration with Marco Borgogno, the medicinal chemist counterpart of the project, with the help of our mentors and the team, we developed a new class of NKCC1 inhibitors to ameliorate brain-related symptoms of Down syndrome and autism. IAMA Therapeutics, the licensee of the patent of this new class of compounds, aims to continue the development of the lead candidate towards the clinical phases. This includes the advanced preclinical studies, allowing IAMA Therapeutics to file the first-in-human phase I clinical study application. In parallel, we are also developing new classes of selective NKCC1 inhibitors, which drug-like properties are tailored for different neurological conditions, expanding the number of indications that may benefit from our therapeutic approach. The ultimate goal of IAMA Therapeutics is to help people with neurological conditions and their families live their lives to the fullest. 
What would your dream research project be?
AS: Should I benefit from unlimited funding, I would create a group of multidisciplinary research/clinical institutes completely dedicated to the treatment of neurodevelopmental/neurological disorders. Preclinical research and clinical research and practice would be well integrated, providing full support to children with neurodevelopmental/neurological disorders (both from the most common conditions to the rarest ones) and their families. 
In the institutes, children with neurodevelopmental disorders, besides the standard clinical practice and psychological support, would have the possibility to be screened for the specific alteration/mutation they present to consequently be assigned to a personalised therapeutic approach, which could be either an already approved one or a clinical trial promoted by the institute, based on targeted preclinical studies.  
I think that the integration of preclinical and clinical research is key for the success of both preclinical and clinical studies and should be routinely implemented in each project that aims at testing the therapeutic strategy for human diseases.
About the FENS Forum
The FENS Forum of Neuroscience is the largest international neuroscience meeting in Europe, occurring biennially on even years and covering all fields of neuroscience research from basic to translational. The FENS Forum 2024 will bring together experts in all fields of neuroscience to take us to the forefront of our current understanding of modern brain science. It will take place on 25-29 June 2024 in Vienna, Austria.  
About the Federation of European Neuroscience Societies (FENS)
Founded in 1998, the Federation of European Neuroscience Societies is the main organisation for neuroscience in Europe. It currently represents 44 national and single-discipline neuroscience societies across 33 European countries and more than 22,000 member scientists. Discover FENS and subscribe to our biweekly News Alert, with information on our latest calls and activities.