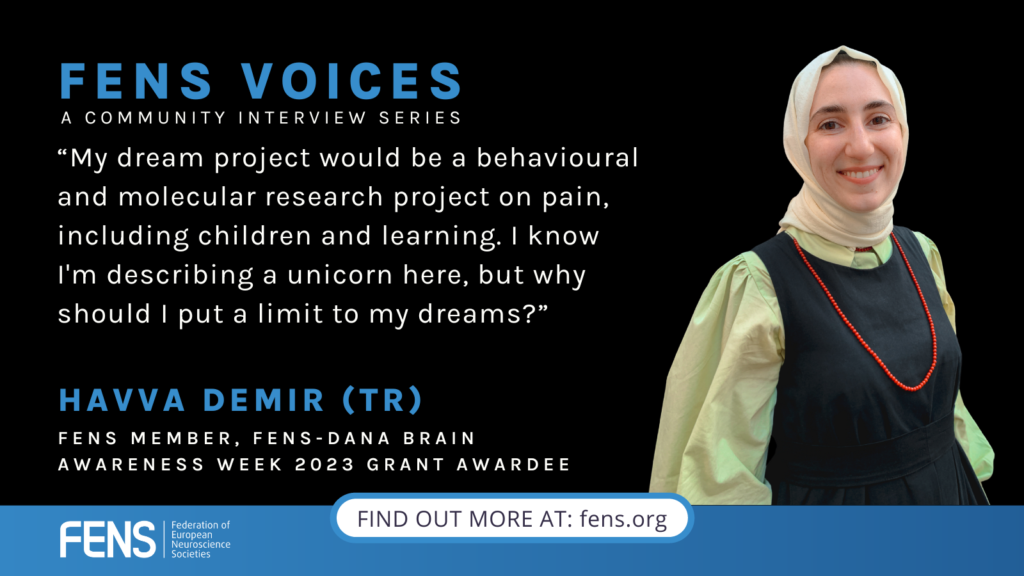 FENS Voices | Havva Demir: Neuroscience heals
17 February 2023
FENS News, Neuroscience News
FENS had the pleasure of talking to Havva Demir, a FENS member based in Turkey, who first studied Dentistry at Yeditepe University. After working as a dentist for a while, she decided to pursue a PhD in Neuroscience, researching better treatment options for trigeminal neuralgia patients through animal studies. She received a grant for The Brain Awareness Week 2023 from FENS and the Dana Foundation for The Brain Fair Istanbul, her project aimed at middle and high school students. She also loves painting in watercolour, studying literature and even manages a blog. Read the full interview below.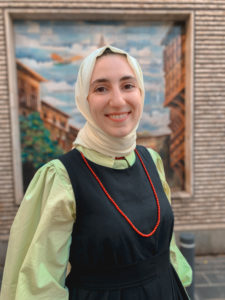 How did you get interested in science/medicine?
HD: Ever since I could read, I remember myself flipping through pages of science books, looking at the pictures. Thanks to my mum, I had nearly all of the books of the Scientific and Technological Research Council of Turkey (TUBITAK) meant for children. I used to follow the easy science experiments to do at home, as a sort of game. So, science was woven into my fabric ever since I was a kid.
We all have role models. Who was/is your favourite scientist and why?
HD: It may be a cliché, but I am forever grateful to Eric Kandel for providing us with a meticulously detailed yet easy-to-follow neuroscience book, "Principles of Neural Science". I lived and breathed its pages, while preparing for my qualification exams. In addition, I am also thankful to him because he, as a leading figure within neuroscience, connects art with neuroscience in his other books, which is really valuable.
I also want to mention Ethan Kross, the author of "Chatter: The Voice in Our Head". His book was the first neuroscience book that I reviewed on Linkedin, which was an excellent start for me. Professor Kross conveys the research data in a clear and fun way for everyone to understand. I hope to write as clearly as he does one day.
How was studying dentistry for your bachelor's degree? Why did you want to become a dental surgeon?
HD: First things first, studying dentistry is hard on your body and soul, but at the same time, it is very rewarding. Being a healthcare specialist is an enormous ethical burden that makes the long studying hours seem short, as a doctor should meticulously decide upon and then carry out the best treatment, on an individual basis. Nonetheless, changing the lives of patients by beautifying their smiles and relieving their pains are well worth all the hardship. 
I've always had a curiosity for biological systems. During my studies for university entrance exams, studying biology was like a mini-vacation between other disciplines. My mum and sister are dentists, so I chose the most familiar vocation, which includes biology. I am amazed by the human body and I have a keen eye for detail and aesthetics, which helped me stay on track.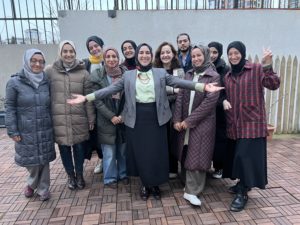 After your studies, you ended up researching trigeminal neuralgia in your PhD project at Yeditepe University. Why neuroscience and how was it to switch fields?
HD: Honestly, I had a long depression after graduating. During that period, I consumed a lot of knowledge related to several research areas. Afterwards, I realised that everything that made me feel better was linked to neuroscience. Neuroscience was the perfect study area to satisfy my hunger for scientific research and to improve my psychological well-being. Neuroscience heals.
I don't think I have switched fields, but rather I have added a new perspective and experience to my career. I am still a dentist with a big love for neuroscience and molecular research.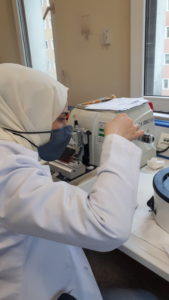 Can you share with us the findings of your research project? What are its goals? Does it gravitate around pain in general or is it strictly related to trigeminal neuralgia?
HD: Trigeminal neuralgia is treated with the antiepileptic drug Carbamazepine as the golden standard. It is an effective drug, yet it has significant side effects. With my thesis project, I aim at providing a better treatment option for trigeminal neuralgia patients. I searched whether a combination of a calcium channel blocker with Carbamazepine could give a longer duration of relief without the side effects. The results look promising, but still, there is a lot to research.
So yes, I love pain as a general subject, but my thesis is strictly related to trigeminal neuralgia.
FENS is celebrating Brain Awareness Week 2023 across 22 countries in Europe through 38 projects funded by FENS with the support of the Dana Foundation. Your initiative, "The Brain Fair Istanbul", is one of the selected projects. What made you want to be a BAW 2023 event organiser? Do you have any experiences related to science fairs?
HD: I have a soft spot for teaching and spending time with young children. I also love talking to non-researchers about neuroscience-related topics. So, the call for the Brain Awareness Week fitted my profile perfectly.
I have always been interested in science, but I felt I was a misfit, a nerd. Then one day there was a science fair at my school. Everyone was joyful and interested, including the bullies. That day all of the students could see science from my perspective, as a fun discipline to be interested in. Their reaction made me feel I belonged to the group. I want to recreate that atmosphere with neuroscience.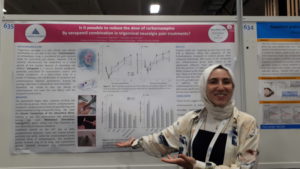 Where do you plan to organise the fair? Who is your target audience?
HD: The Brain Fair Istanbul will take place in five middle schools. It will be a fair for middle school children, even though high school students are also invited to act as poster presenters. 
On top of that, my organisation team consists mainly of university students and fresh graduates. University students are not invited to the event. Still, they constantly hear about Brain Awareness Week because my team is as enthusiastic as I am! 
So all in all, we cover a large audience, from 10 to 25 years old.
What do you have in store for us? Can you tell us something about the event and your team?
HD: The Brain Fair Istanbul aims to bridge the gap between introverted and extroverted children using brain points. Fairs are generally more suited to outgoing people; they quickly visit each stand, have fun and call it a day. However, introverted people are slower, but more curious; they learn more, but have less fun in public. This practice encourages both to listen to poster presentations and learn new concepts, while gaining brain points. Listening will be easier for curious, introverted students, giving them a better chance at enjoying the fair slowly, while extroverted students are encouraged to spend more time learning.
My team members gathered around this event. I didn't know most of them before, but the enthusiasm for neuroscience and the passion for spending time with children brought us all together. We have weekly meetings, and I was pleasantly surprised that during our last meeting they brainstormed and started to announce The Brain Fair Istanbul by themselves. I didn't even have to ask them. With this kind of energy, we'll provide a pleasant experience to everyone attending. I am very grateful to have such a team. I plan to work with them on other neuroscience projects in the future.
What should the participants expect?
HD: They should expect lots of fun, healthy snacks, trampoline jumps, lego puzzles and games. At the same time, I hope to provide answers to their curious minds, while opening up a new curiosity channel, called "neuroscience", in their minds.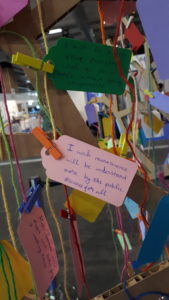 Do you plan to continue on doing research? If so, what would your dream project look like?
HD: I hope to gain more experience in research as a postdoc, while also trying my best to become a science writer.My dream project would be a behavioral and molecular research project on pain that highlights cognitive functions simultaneously with human studies. The project may also include children and learning. I know I'm describing a unicorn here, but why should I put a limit to my dreams? The Brain Fair Istanbul was a wish I wished during FENS Forum 2022, and it is on its way to become reality.
I give my humble thanks to both FENS and Dana Foundation for this opportunity.
About Brain Awareness Week
Brain Awareness Week (BAW) is the global campaign to increase public awareness of the progress and benefits of brain research. Organised by the Dana Foundation, Brain Awareness Week (BAW) is an opportunity to let people know about the progress that is being done in brain research as well as progress in the diagnosis, treatment and prevention of disorders of the brain, such as Alzheimer's, Parkinson's, stroke, schizophrenia and depression. The 2023 edition of Brain Awareness Week will take place on 13-19 March. Every year, FENS, on behalf of the Dana Foundation, offers grants to Brain Awareness Week event organisers.
About the Federation of European Neuroscience Societies (FENS)
FENS is a governing partner of the International Brain Bee. Founded in 1998, the Federation of European Neuroscience Societies is the main organisation for neuroscience in Europe. It currently represents 44 national and single-discipline neuroscience societies across 33 European countries and more than 22,000 member scientists. Discover FENS and subscribe to our biweekly News Alert, with information on our latest calls and activities.