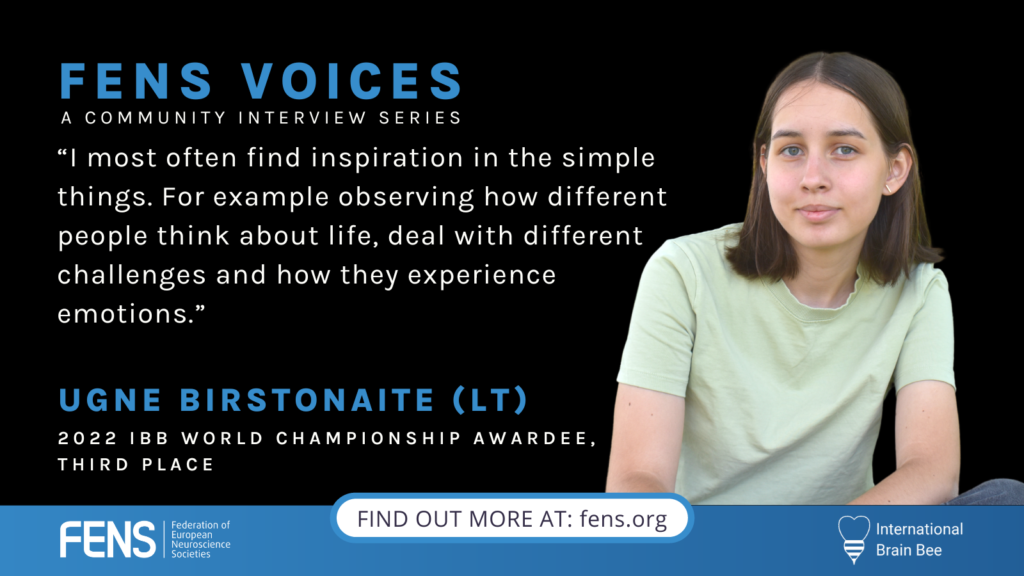 FENS Voices | Ugne Birstonaite: Setting goals
25 November 2022
FENS News, Neuroscience News
FENS is delighted to talk with Ugne Beatrice Birstonaite, a student in grade 12 at Vilnius Vytautas Magnus Gymnasium in Lithuania, who won 3rd place in the International Brain Bee competition. Her curiosity and interest in lucid dreaming developed into a passion for brain research. After going to university, she plans to work in academia and to pursue her own research. Read the full interview below.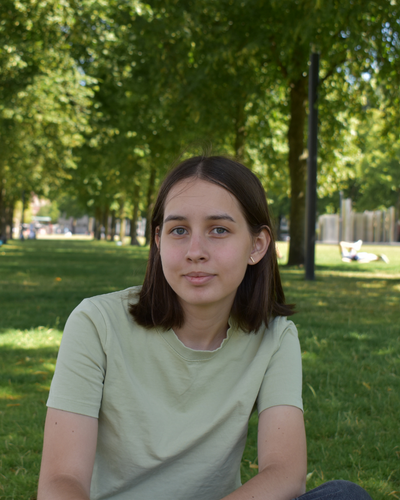 Congratulations on your excellent result at the 2022 International Brain Bee World Championship. You managed to reach 3rd place! How was the competition?
UB: Thank you so much! The competition was great. Because the IBB this year took place virtually, at first I didn't think it would be possible to meet and have such a great time with other national winners. But, thanks to the efforts of the IBB team that managed the organisation process, all activities with other champions and lectures were very interesting and inspiring. 
When and how did you become interested in brain research?
UB: I became interested in neuroscience when, while in the 7th grade, I attended a lecture about sleep and heard about lucid dreaming. After that, I started to learn more and more about the brain and my fascination for neuroscience increased. 
Did the place where you grew up or your family's background play any role in nurturing this fascination?
UB: Not really. Most of my family members' work is related to social sciences. So, my interest for neuroscience and science in general developed on its own, without input from their side. My family always supported me and never pressured me to follow their career path.  
What do you enjoy doing in your spare time?
UB: I like to play musical instruments, especially piano. Also, I really enjoy hiking. 
If you would be asked to best define the brain in one word, what would it be?
UB: Fascinating.

How did you first hear of the IBB and when did you first compete?
UB: I first heard about the Brain Bee competition when I discovered on social media the registration for the Lithuanian Brain Bee (LBB). I competed for the first time in the LBB in 2021. I didn't win that time; however, I was one of the top finalists. Thankfully, I didn't give up and I decided to try again this year, and that's when I won the first place in the LBB and got the opportunity to represent Lithuania in the International Brain Bee. 
What was the reaction of your relatives when they heard you had done so well in the IBB World Championship?
UB: Everyone was very happy, and we all later celebrated. When I first won the Lithuanian Brain Bee, my relatives were of course truly proud and excited, but also surprised as I hadn't mentioned to them that I would be participating in the competition. 
What did you learn from others during this year's IBB? Could you share the most interesting advice that you and other students received from neuroscience mentors?
UB: When we socialised, we mostly talked about our personal lives and cultures, which was very exciting. For example, we talked about our favourite movies and a few national champions brought up the names of their favourite local filmmakers, which I later watched and really enjoyed. We had an amazing time even after the competition. For example, I visited the national champion of the Netherlands and we spent a wonderful day together. From the mentors, I learned the many steps needed to become a neuroscientist and that the most important step towards reaching a goal is to set a deadline by which the goal has to be fulfilled.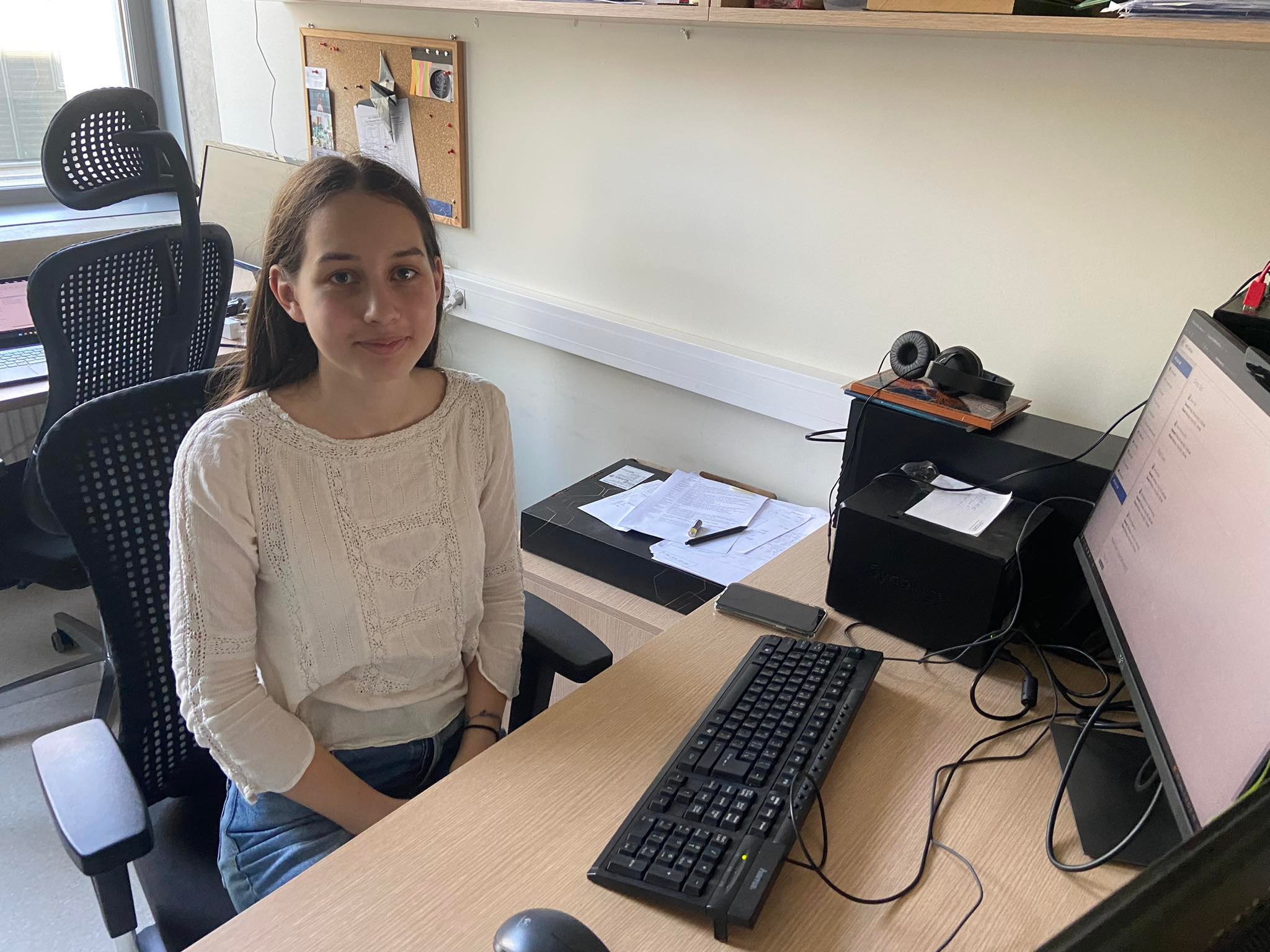 Who are your biggest inspirations and what sets them apart from others?
UB: I am mostly inspired by my family members, as with them I have developed the most valuable connections. But I never had one person that I looked up to. I most often find inspiration in the simple things. For example observing how different people think about life, deal with different challenges and how they experience emotions. 
What are your plans for the future?
UB: Currently, I am in my final year of high school and hopefully next year I will be studying for a bachelor's degree in cellular biology or a related subject in university. I imagine myself working in academia, doing my own research. I haven't decided yet what area I would want to focus on during my research, but I still have plenty of time to decide and I still have to hear about a lot of things I don't know yet.
About International Brain Bee (IBB)
The International Brain Bee was incorporated in 2018 as a non-profit educational organisation. The IBB's Board is comprised of six governing partners: the Alzheimer's Association, the American Psychological Association (APA), the Dana Foundation, the Federation of European Neuroscience Societies (FENS), the International Brain Research Organization (IBRO) and the Society for Neuroscience (SfN). Other partners and sponsors of the IBB include Leadership Initiatives, the International Youth Neuroscience Association and CollegeAdvisor.
About the Federation of European Neuroscience Societies (FENS)
FENS is a governing partner of the International Brain Bee. Founded in 1998, the Federation of European Neuroscience Societies is the main organisation for neuroscience in Europe. It currently represents 44 national and single-discipline neuroscience societies across 33 European countries and more than 22,000 member scientists. Discover FENS and subscribe to our biweekly News Alert, with information on our latest calls and activities.