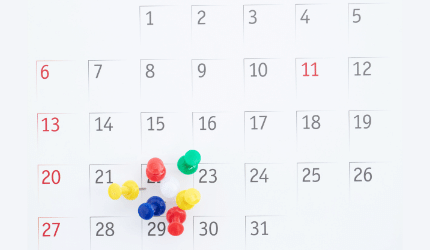 Mark your calendars: upcoming FENS society meetings
23 April 2021
Society & Partner News
From EBBS to the Slovenian Neuroscience Association, FENS Member Societies are holding their annual meeting in 2021! Check this article and mark your calendars with upcoming opportunities for you to learn, share your work and meet your peers!
Last updated: 23 April 2021.
The meetings are listed in chronological order – this list will be updated regularly.
Upcoming meetings
19-21 May – French Neuroscience Society NeuroFrance 2021
Format: virtual meeting
25-26 May – European Society for Neurochemistry Future perspectives for European neurochemistry – a young scientists conference
Format: virtual meeting
13-16 July – EBPS 2021 Biennial Meeting
Format: virtual meeting
25-27 August 2021 – Polish Neuroscience Association and Lithuanian Neuroscience Association FENS Regional Neuroscience Meeting 2021
Format: virtual meeting
Abstract submission deadline: 10 May
4-7 September 2021 – EBBS 2021
Format: hybrid – Lausanne (Switzerland)
Early registration deadline: 30 April
Abstract submission deadline: 30 April
The European Brain and Behaviour Society (EBBS) will hold their meeting as an in-person meeting in Lausanne on 4-7 September 2021. The organising committee encourages people to plan attending in person. Importantly, they will also include a hybrid format with a virtual access, so that those who cannot travel to Lausanne can follow the meeting virtually.
Delegates who register to the virtual version will be able to upgrade their registration to participate in person at any time before the meeting (paying either early registration or late registration fees). In the unlikely eventuality that the meeting cannot take place physically in Lausanne, the meeting will take place virtually and delegates will be reimbursed the difference they paid for the physical meeting.
EBBS 2021 rates and programme
Download the EBBS 2021 flyer 

15-17 September 2021 – SRNT-Europe Annual Conference – SRNT-E
Format: virtual meeting
Symposia submission deadline: 2 May
Abstract submission deadline: 16 May
24-25 September 2021 – SiNAPSA  Slovenian Neuroscience Association SNC'21
Format : in-person, Ljubljana, Slovenia
SiNAPSA, Slovenian Neuroscience Association, announces the international neuroscience conference SNC'21 for 24-25 September 2021 and invites neuroscientists across Europe to submit proposals for Thematic Symposia.
Details of the Open Call for Symposia proposals can be found here
Any questions regarding the Call and SNC'21 should be addressed to SNC21@sinapsa.org
28-30 September 2021 – Austrian Neuroscience Association Meeting 2021
Format: in-person, Salzburg, Austria
2-5 October 2021 – 34th ECNP Congress
Format: in-person, Lisbon, Portugal
1-3 December 2021 – SPN2021
Format: in-person, Coimbra, Portugal
The 17th meeting of the Portuguese Society for Neuroscience will be held in Coimbra, at the São Francisco Convention Center, in December 1-3, 2021. This international meeting will gather participants from several Portuguese Universities and Research Centers, as well as from other European countries. The meeting reflects the dynamic nature of the Portuguese community of Neuroscientists and provides plenty of opportunities for interaction between participants in a cooperative environment.
Past meetings
22-30 March 2021 – 14th Göttingen Meeting of the German Neuroscience Society
Format: virtual meeting
12-15 April 2021 – BNA Festival of Neuroscience 2021
Format: virtual meeting
19-28 April 2021 – INCF Assembly 2021
Format: virtual meeting
10-15 May 2021 – IBANGS Genes, Brain and Behaviour
Format: virtual meeting