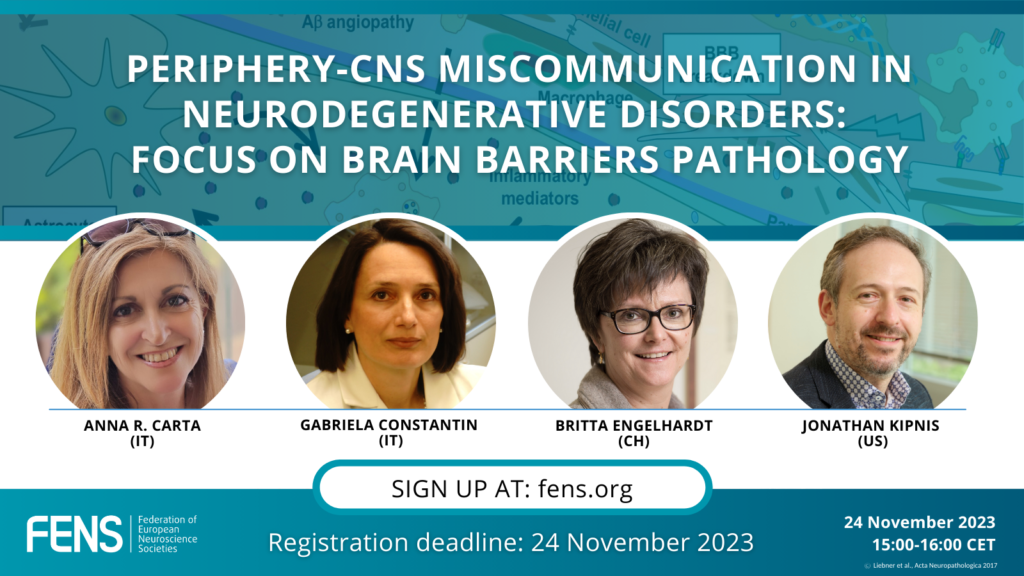 Register for the FENS Friday webinar "Periphery-CNS miscommunication in neurodegenerative disorders: focus on brain barriers pathology"
24 October 2023
FENS News
FENS is delighted to announce that registration is now open for the next FENS Friday webinar, "Periphery-CNS miscommunication in neurodegenerative disorders: focus on brain barriers pathology", taking place on 24 November 2023!
The blood-brain barriers are of great relevance in maintaining central nervous system (CNS) immune privilege and for the regulation of peripheral immunocytes trafficking within the brain. Anomalous brain-immune system crosstalk is acknowledged across neurodegenerative disorders, characterised by chronic infiltration of peripheral immunocytes within the CNS and neuroinflammation, eventually leading to neurodegeneration.
To gain a deeper understanding, FENS presents this unique opportunity to explore the world of neurodegenerative disorders and brain barriers pathology with esteemed speakers Anna R. Carta, Britta Engelhardt, Jonathan Kipnis and Gabriela Constantin.
When is it taking place?
24 November at 15:00-16:00 CET
Programme
Chaired by Anna R. Carta, this webinar will feature insightful presentations by three speakers: Britta Engelhardt, Jonathan Kipnis and Gabriela Constantin!
Imaging how the brain barriers maintain CNS immune privilege.
Britta Engelhardt will delve into the main anatomical routes and molecular mechanisms used by immune cells to enter the CNS during immune surveillance and neuroinflammation.
Jonathan Kipnis will explore the unique properties and structures of the arachnoid matter. Participants will also discover how the arachnoid barrier balances separation and communication between the CNS and the periphery and the crucial aspect for waste clearance and immune surveillance.
Immune cell interactions at brain barriers during neurodegenerative diseases.
Gabriela Constantin will focus on meninges and the interplay between innate and adaptive immunity cells in these barriers. This interplay serves as a factor in promoting the pathogenesis of neurodegenerative disorders such as Alzheimer's disease.
Meet the Speakers
Anna R. Carta (IT), University of Cagliari, Italy – Moderator
Gabriela Constantin (IT), University of Verona
Britta Engelhardt (CH), University of Bern
Jonathan Kipnis (US), Brain Immunology and Glia (BIG) Center and Washington University in St. Louis
About the Committee for Higher Education and Training (CHET) 
FENS aims to actively support continued higher education and training in neuroscience for European and international early career scientists. CHET is responsible for the governance and implementation of training and education activities.
About FENS 
The Federation of European Neuroscience Societies is the voice of European neuroscience, representing 44 neuroscience societies across 33 European countries and more than 22,000 neuroscientists. Its activities span five broad areas: scientific meetings, higher education and training, the European Journal of Neuroscience, outreach and advocacy and membership.