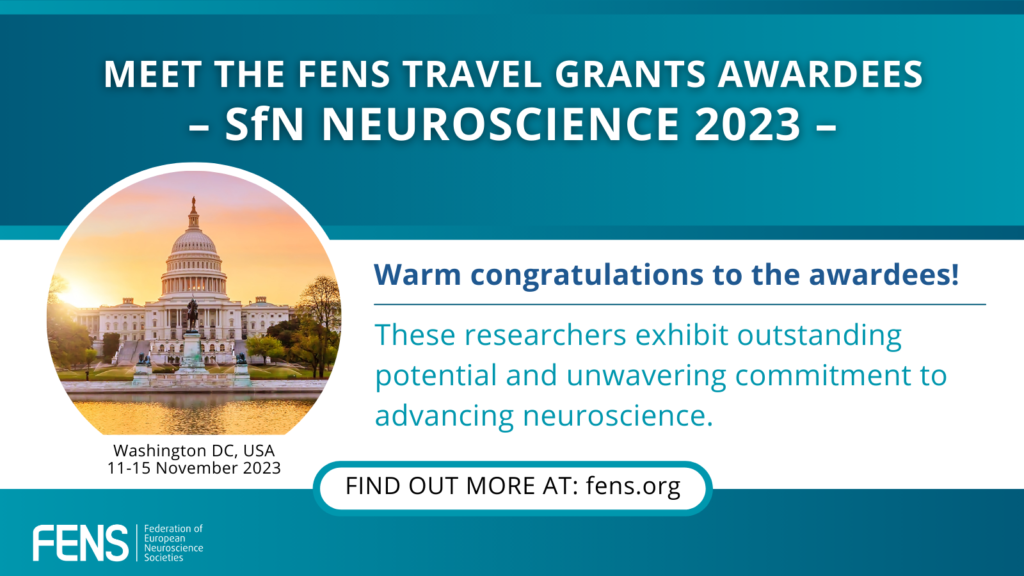 The FENS travel grant awardees attending SfN's Neuroscience 2023
04 September 2023
FENS News, Neuroscience News
The Federation of European Neuroscience Societies (FENS) is proud to share the list of researchers who will receive a FENS travel grant to attend SfN's Neuroscience 2023, taking place from 11-15 November in Washington DC, USA.
Supporting Excellence: The Awardees
FENS congratulates the recipients of the FENS travel grants. Each of these individuals has demonstrated exceptional potential and a profound commitment to advancing neuroscience.
The following individuals have been chosen to receive the grants:
Alice Abbondanza (Czech Republic)
Oliver Barnstedt (Germany)
Maria Diamantaki (Greece)
Miguel Farinha-Ferreira (Portugal)
Declan King (UK)
Lali Kruashvili (Georgia)
Rafael Moliner (Finland)
Gergo Attila Nagy (Hungary)
Sabahaddin Taha Solakoglu (Turkey)
Yuktiben Vyas (France)
The Voice of European Neuroscience at Neuroscience 2023
FENS will be exhibiting at booth 3231! Attendees are encouraged to talk to the FENS staff to learn more about the diverse activities and engagements that FENS has organised for 2023 and 2024. Make sure to come at booth 3231! See you in Washington DC!
Discover our open calls!
FENS Training Opportunities
FENS has several programmes offering travel grants and stipends to early-career researchers. These aim to facilitate mobility and scientific exchange and allow researchers in the early stages of their careers to attend FENS and international meetings.
Find out more about FENS activities.
About FENS
Founded in 1998, the Federation of European Neuroscience Societies is the main organisation for neuroscience in Europe. It currently represents 44 national and single-discipline neuroscience societies across 33 European countries and more than 22,000 member scientists. Discover FENS and subscribe to our biweekly News Alert, with information on our latest calls and activities.