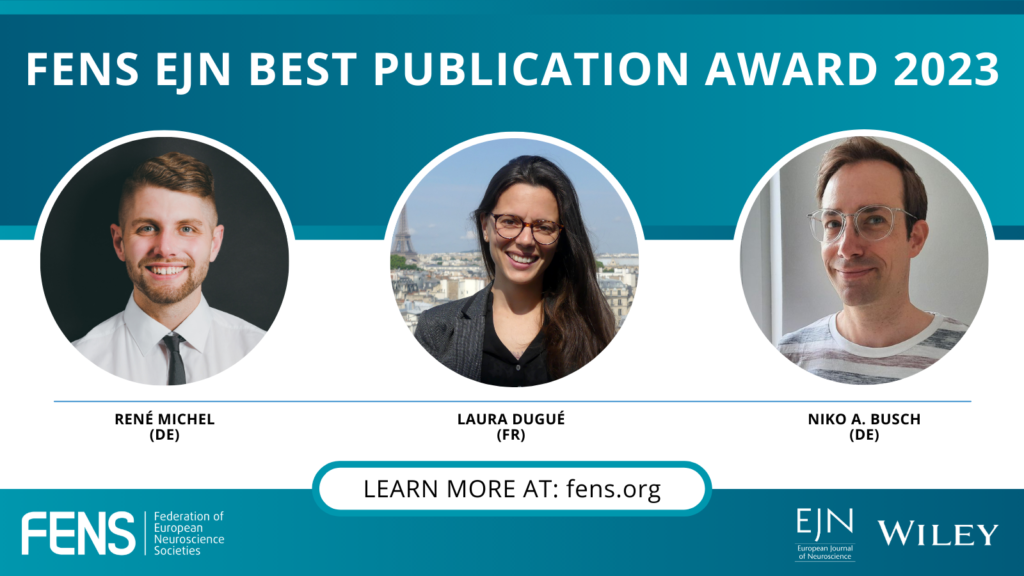 Winners of EJN Best Publication Award 2023 to give a lecture at the FRM 2023
23 March 2023
FENS News, Neuroscience News
In collaboration with FENS and Wiley, EJN is proud to announce that the winners of the EJN Best Publication Award 2023 are PhD student René Michel (DE), Dr Laura Dugué (FR) and Dr Niko A. Busch (DE). They will be giving the award lecture on 3 May, during the FENS Regional Meeting 2023, in Algarve, Portugal, and will receive a monetary prize of £3,000.
The title of the winning paper is "Distinct contributions of alpha and theta rhythms to perceptual and attentional sampling" and it gravitates around the accumulating evidence suggesting that visual perception operates in an oscillatory fashion at an alpha frequency (around 10 Hz). Their results suggest distinct roles of the perceptual alpha and the attentional theta rhythm, leading them to speculate that both rhythms result in environmental sampling characterised by fluctuating spatial resolution, speaking against a strict succession of blind gaps and perceptual snapshots.
FENS wholeheartedly congratulates the team for this achievement.
About the 2023 laureates
René Michel is a PhD student working alongside Prof. Dr Niko Busch at the Otto Creutzfeldt Center for Cognitive and Behavioral Neuroscience at the University of Muenster. In his research, he investigates how brain oscillations shape our visual perception and attention by means of psychophysics and EEG.
Dr Laura Dugué is an Associate Professor at the Integrative Neuroscience and Cognition Center (INCC) at Université Paris Cité, where she is a Principal Investigator since 2016. Dr Dugué obtained her PhD at the Centre de Recherche Cerveau et Cognition (CerCo) from Université Toulouse III and CNRS. She then did a post-doc in the Department of Psychology of New York University. Her work focuses on the spatio-temporal organisation of brain oscillations and their role in perception and attention. She uses a multi-modal approach including psychophysics, neuroimaging and computational modeling.
Dr Niko A. Busch is a Professor for Experimental Psychology at the University of Münster. He holds a PhD from the University of Magdeburg. He completed his postdoctoral fellowship at the CNRS Centre de Recherche Cerveau et Cognition (CERCO), Toulouse. Busch's work focuses on the role of alpha-band oscillations in human EEG for perception and cognition. This electrophysiological signal is relatively well understood at the physiological level, where it has been demonstrated to have an inhibitory effect on firing rates, multi-unit activity, and the BOLD response. It is widely believed that this physiological inhibition corresponds to the inhibition of task-irrelevant distraction at the behavioural level. He aims to specify our understanding of what exactly "inhibition of distraction" means in this context, and whether alpha oscillations have a direct causal effect on this inhibition or whether they simply coincide with shifts of attention or distraction.
About the EJN Best Publication Award
With this prestigious biennial award sponsored by Wiley, FENS and the European Journal of Neuroscience (EJN) recognise the best original research article published in EJN over the preceding two‐year period.
Find out more about this award.