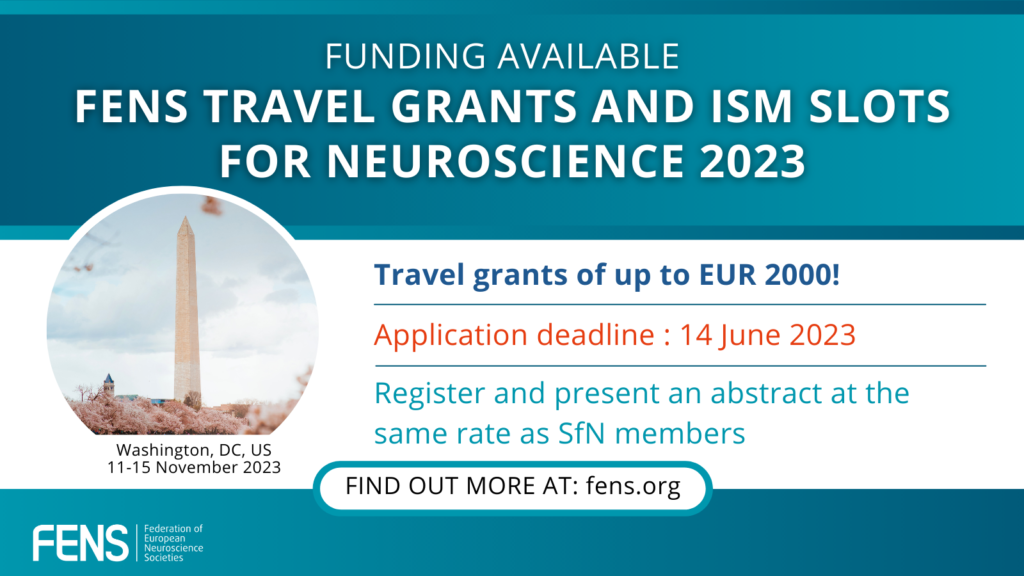 Apply for a FENS travel grant and ISM slot for Neuroscience 2023
31 May 2023
FENS News, Society & Partner News
FENS and its partners offer travel grants to researchers in order to attend meetings and aim to facilitate mobility and scientific exchange, allowing scientists in the early stages of their careers to grow their network at an international level.
FENS travel grants for Neuroscience 2023
FENS offers ten travel grants of EUR 2000 to attend the Neuroscience 2023, SfN annual meeting, taking place on 11-15 November 2023 in Washington DC (US). You can find the application form and eligibility criteria here.
Take the opportunity to meet top international experts in the field of neuroscience!
Application deadline: 14 June 2023
ISM slot code for Neuroscience 2023
FENS members can also present an abstract and register for Neuroscience 2023 under the same conditions as regular SfN members.
A limited number of codes is available and will be given on a first-come, first-serve basis.
FENS members interested in benefiting from this opportunity can apply for an ISM slot code here.
Abstract Submission deadline: 14 June 2023
Get ready to present your research in front of an international audience!
More information about Neuroscience 2023 can be found on the official website.