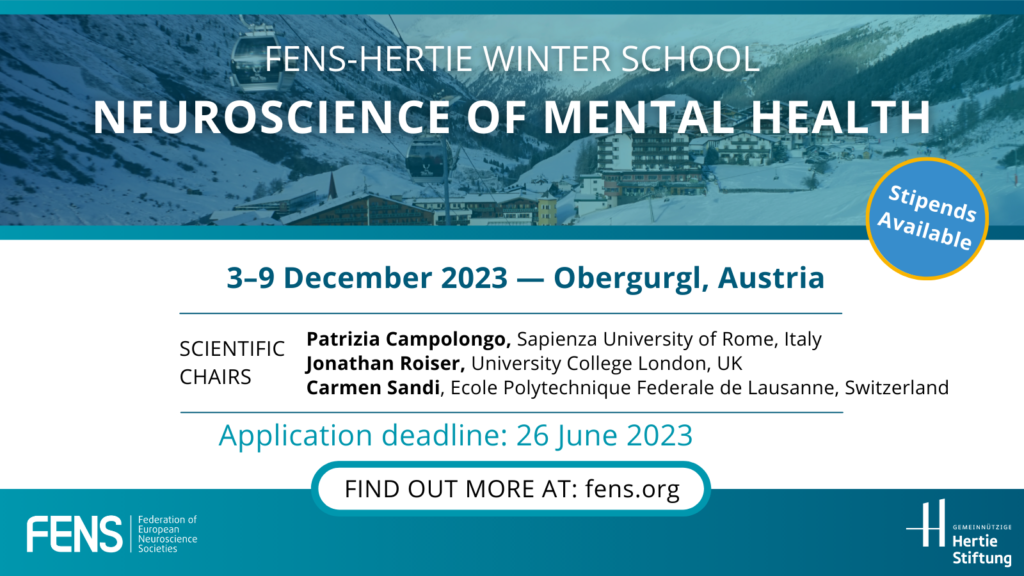 Apply for FENS-Hertie Winter School: "Neuroscience of Mental Health"
25 May 2023
FENS News, Society & Partner News
In collaboration with the Hertie Foundation, FENS is pleased to announce that the FENS-Hertie Winter School on "Neuroscience of Mental Health" application is now open! 
PhD students and early-career postdocs are welcome to participate in this unique learning experience taking place on 3-9 December 2023 in Obergurgl, Austria. Interested candidates are invited to submit their applications until 26 June 2023.  
Chaired by Patrizia Campolongo (IT), Jonathan Roiser (UK) and Carmen Sandi (CH), the FENS-Hertie Winter School will cover a broad range of topics related to mental health, focusing on cognitive and computational processes, brain circuits, neurochemicals, genetics and environmental influences.   
Poor mental health continues to be a significant global concern, impacting individuals, families, and society at large. Despite the availability of existing treatments, many patients do not benefit from them, highlighting the need for a deeper understanding of the brain mechanisms driving mental health symptoms.  
In recent years, neuroscientists have championed a new approach rooted in dimensional, mechanistic understanding, emphasising brain circuits and cognitive processes as key drivers of symptoms. To foster collaboration and knowledge sharing, this school presents an invaluable opportunity for aspiring researchers to explore the intricate world of mental health neuroscience.  
Don't miss this exceptional opportunity and delve into the exciting mental health field from a neuroscience perspective. Participants will gain invaluable insights from world-leading experts and collaborate with like-minded individuals from various disciplines. Apply now to secure your place and contribute to advancing the understanding of the neuroscience behind mental health. 
For more information and application details!  
About the Hertie Foundation 
The work of the Hertie Foundation focuses on two key issues: brain research and strengthening democracy.  It is one of the three largest private patrons of brain research in Europe. In partnership with the Hertie Foundation: Winter Schools, Eric Kandel Young Neuroscientists Prize, Hertie Foundation Plenary Lecture at the FENS Forum 
About FENS 
The Federation of European Neuroscience Societies is the voice of European neuroscience, representing 44 neuroscience societies across 33 European countries and over 22,000 neuroscientists. Its activities span five broad areas: scientific meetings, higher education and training, the European Journal of Neuroscience, outreach and advocacy, and membership.