Boehringer Ingelheim FENS Research Award 2016
19 June 2015
Society & Partner News
19 June, 2015 in Societies & Partner News
The award is sponsored by Boehringer Ingelheim and is announced by the Federation of European Neuroscience Societies (FENS). It is given in recognition of outstanding and innovative scientific contributions in any area of neuroscience research.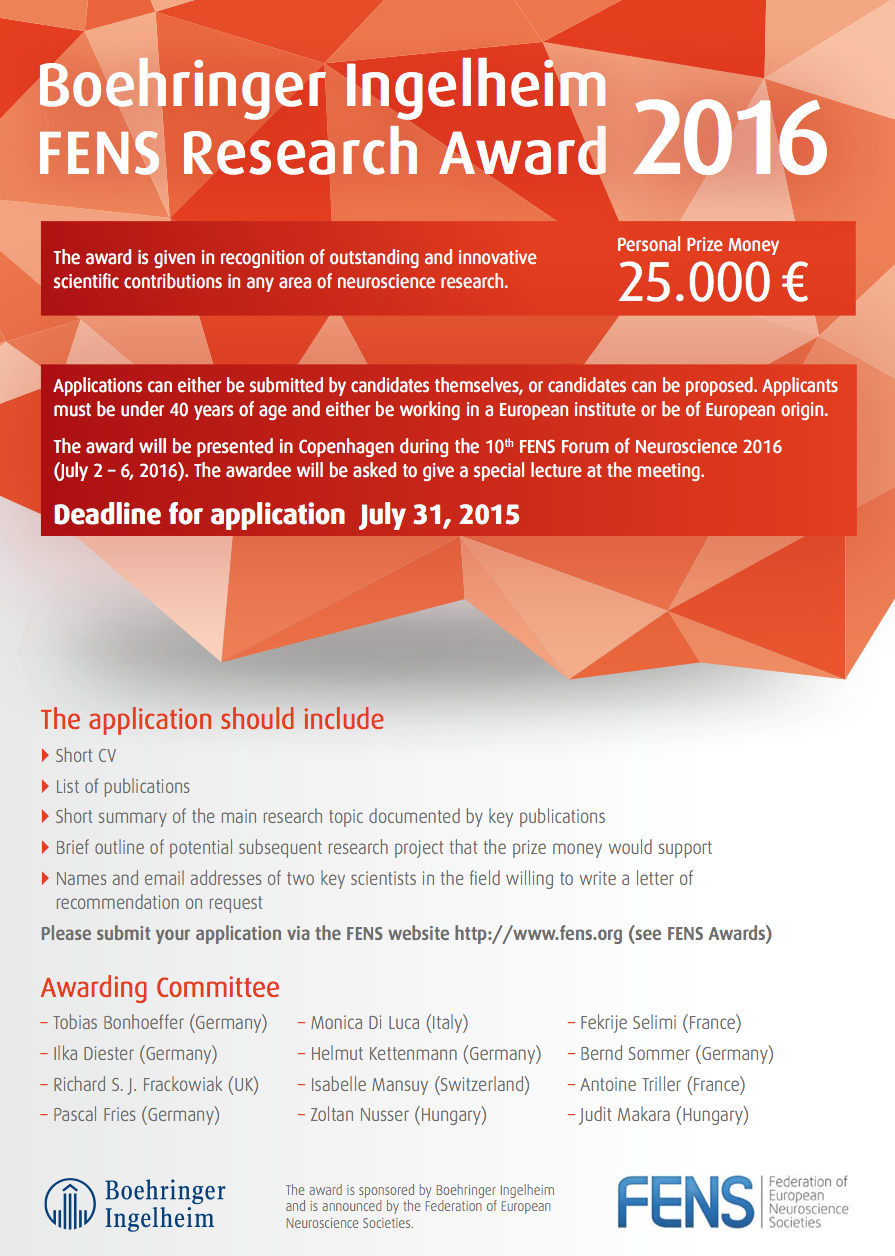 This is a personal prize of 25.000 €.
Applications can either be submitted by candidates themselves, or candidates can be proposed. Applicants must be under 40 years of age and either be working in a European institute or be of European origin.
The award will be presented in Copenhagen during the 10th FENS Forum of European Neuroscience 2016 (July 2 – 6, 2016). The prize winner will be asked to give a special lecture at the meeting.
Deadline for application: 31 July 2015.
Apply now on the FENS website.
The application should include the following documents:
short CV
list of publications
short summary of the main research topic documented by key publications
short outline of the research project for which the prize money is intended
names and email addresses of two key scientists in the field willing to write a letter of recommendation on request
Please submit your application via the FENS website.
Awarding Committee
Tobias Bonhoeffer (Germany)
Ilka Diester (Germany)
Richard S. J. Frackowiak (UK)
Pascal Fries (Germany)
Monica Di Luca (Italy)
Helmut Kettenmann (Germany)
Isabelle Mansuy (Switzerland)
Zoltan Nusser (Hungary)
Fekrije Selimi (France)
Bernd Sommer (Germany)
Antoine Triller (France)
Judit Makara (Hungary)