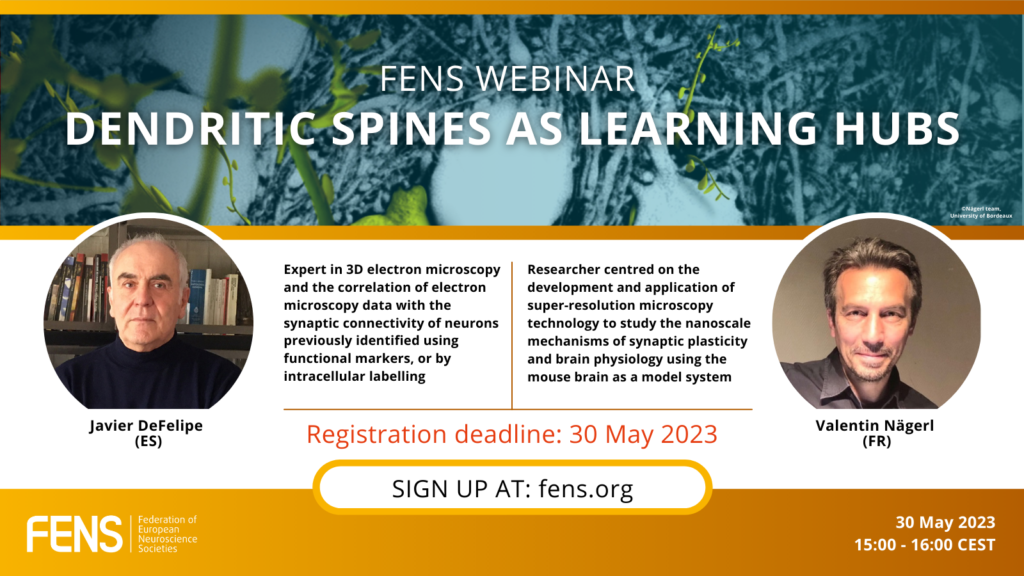 Discover the new FENS webinar series on "How concepts and techniques emerged in neuroscience"
28 April 2023
FENS News, Neuroscience News
The FENS Committee for Higher Education and Training (CHET) and History Committee and have organised a new series of online webinars, "How concepts and techniques emerged in neuroscience: a historical perspective", which aims to pair current trends in neuroscience, from revolutionary techniques or neuroscience concepts, with their historical roots and relevant historical figures in the field.
Discover the first CHET and History Committee joint webinar on "Dendritic spines as learning hubs", taking place on 30 May 2023 at 15:00 pm CEST. This event will focus on the concept of dendritic spines as learning hubs presented by two outstanding speakers Prof. Javier DeFelipe (ES) and Prof. Valentin Nägerl (FR).
Santiago Ramón y Cajal, the Spanish founder of modern neuroscience, was the first researcher to identify dendritic spines as important neuronal structures and the role that spines play in learning and memory. Before, these tiny structures were considered mere artefacts.
More than a century after Cajal's discovery, neuroscientists know that spines play an important role in memory acquisition and consolidation, and are the topic of cutting-edge research combining structural, physiological, and modelling studies.
Programme
Historical perspective on spine discovery and history in the field – Javier DeFelipe
Where the field of dendritic spines is moving – Valentin Nägerl
Meet the speakers!
Javier DeFelipe (ES), Instituto Cajal
Valentin Nägerl (FR), University of Bordeaux
When is it taking place?
30 May 2023, 15:00-16:00 CEST
About the Committee for Higher Education and Training (CHET)
Through CHET, FENS aims to actively support continued higher education and training in neuroscience for European and international early career scientists. CHET is responsible for the governance and implementation of training and education activities.
About the FENS History Committee
FENS History Committee promote and protects the heritage of brain science globally, fosters discussions on the history of neuroscience, with a focus on the history of the 20th century, and develops resources to document the history and development of neuroscience.
About FENS – Federation of European Neuroscience Societies
The Federation of European Neuroscience Societies is the voice of European neuroscience, representing 44 neuroscience societies across 33 European countries and more than 22,000 neuroscientists. Its activities span five broad areas: scientific meetings, higher education and training, the European Journal of Neuroscience, outreach and advocacy and membership.