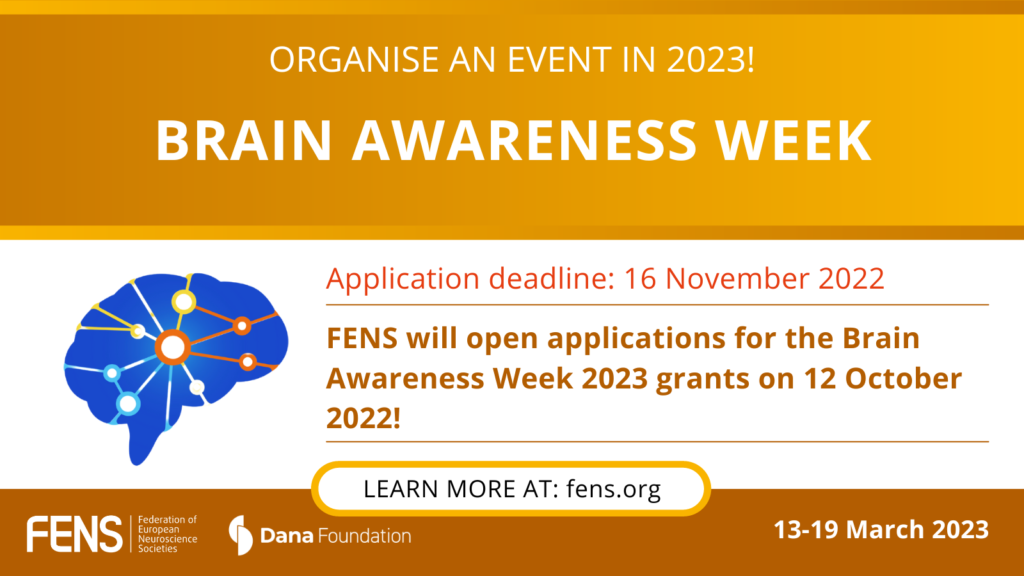 The Brain Awareness Week 2023 grants will open in October!
29 September 2022
FENS News, Neuroscience News
FENS will open the Brain Awareness Week 2023 grants application from 12 October until 16 November 2022.
Every year, FENS, on behalf of the Dana Foundation, offers financial support of up to EUR 1,000 to event organisers within Europe during the Brain Awareness Week on 13-19 March 2023. Get ideas and some useful tips by watching the recording of the webinar "Running a Brain Awareness Week event in 2022".
What type of events are funded? 
There are no constraints regarding Brain Awareness Week! FENS, on behalf of the Dana Foundation, has funded events that include lectures, symposia, panel discussions, lab tours, science competitions, concerts, etc.  Discover the 33 projects funded in 2022.
About Brain Awareness Week
Organised by the Dana Foundation, Brain Awareness Week (BAW) is an opportunity to let people know about the progress that is being made in brain research as well as progress in the diagnosis, treatment and prevention of disorders of the brain, such as Alzheimer's, Parkinson's, stroke, schizophrenia and depression.
About the Dana Foundation 
The Dana Foundation is a private philanthropic organisation based in New York dedicated to advancing neuroscience and society by supporting cross-disciplinary intersections such as neuroscience and ethics, law, policy, humanities, and arts.