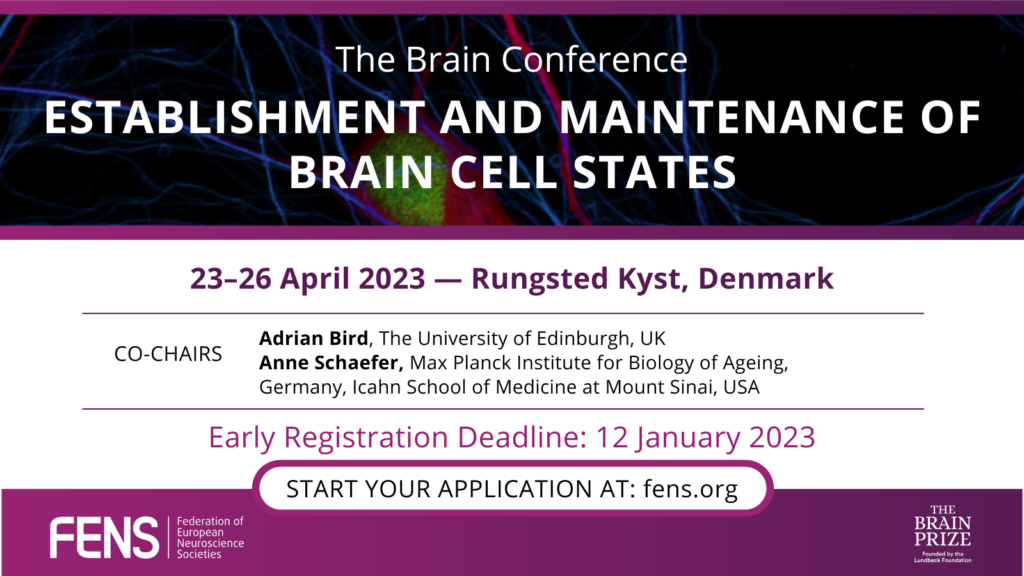 The Brain Conferences are back in April 2023
08 November 2022
FENS News, Neuroscience News
FENS is delighted to announce the opening of registration for the Brain Conference "Establishment and Maintenance of Brain Cell States", taking place on 23-26 April 2023 in Rungsted Kyst, Denmark. 
Chaired by Adrian Bird (UK) and Anne Schaefer (DE/USA), this conference will feature the latest research covering genetic and epigenetic mechanisms responsible for creating and maintaining the integrity of the brain. 
The brain is made up of multiple cell types, predominantly neurons and glia, whose structures and interactions determine the function of the nervous system. At a molecular level, each cell is defined during development by accurate specification of gene expression patterns. Once established, equally crucial are the mechanisms that stabilise the various cell states. Sometimes, this can take many decades. Failure of these processes contributes to neurological disorders associated with ageing and disease.
How can I attend the Brain Conference? 
First of all, you will need to create a FENS user account in order to apply for this meeting. You can register here. If you already have an account, you can log in by following this link.
Afterwards, you can register at this link! 
Save on registration fees by applying before the early registration deadline on 12 January 2023! 
Can I apply for the Brain Conference Stipends? 
FENS, The Brain Prize and IBRO-PERC offer 15 stipends of EUR 1,000 each for international students or early career researchers to attend the conference. Part of the stipend will be used to cover the conference registration fee for the grantee.
Discover how to send your application! 
The Brain Conference
One of the key pillars of FENS is organising meetings, which provide a wide range of learning, networking and professional development opportunities for the neuroscience community. The Brain Conferences are elite-level meetings that bring together outstanding researchers in key areas of contemporary neuroscience. Taking place in Rungsted Kyst, Denmark, in the proximity of the country's capital, Copenhagen, the participants will have the opportunity to network with top international neuroscientists and meet with their peers in order to discuss hot topics, underline current challenges and define the brain research of tomorrow. Two conferences per year are organised by FENS in collaboration with the Lundbeck Foundation, the awarder of the Brain Prize. 
FENS – Federation of European Neuroscience Societies 
The Federation of European Neuroscience Societies is the voice of European neuroscience, representing 44 neuroscience societies across 33 European countries and more than 22,000 neuroscientists. Its activities span five broad areas: scientific meetings, higher education and training, the European Journal of Neuroscience, outreach and advocacy and membership.
Lundbeck Foundation
The Lundbeck Foundation is a foundation that aims to improve people's health and lives by supporting research at the highest level within biomedicine and the natural sciences. The Lundbeck Foundation awards the world's largest brain research prize, The Brain Prize, to brain researchers who have had a ground-breaking impact on brain research.