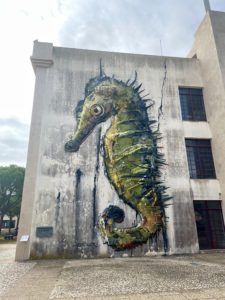 The Gambelas campus is 6 km distance  from downtown Faro and 3 km away from the airport. Located next to the Ria Formosa Park, the campus is served by daily public transport and offers free parking.
Transportation:
Plane
TAP Airlines will be the official carrier of ENCODS 2023! 
Use the TAP Code to benefit of 10% discount for your flight.
Faro Airport is connected to several airports, including Porto and Lisbon airports.
Bus
From doca de Faro (city center) to Campus de Gambelas  
Bus transfer from the conference (free)

Bus line 18 or 19 from Terminal Rodoviário to Universidade do Algarve – Campus de Gambelas (2.5 euros)
From airport to city center:
Bus lines 14 or 16 to Terminal Rodoviário (2.5 euros)
Accommodation: 
Hostels:
Dorms:
Faroway hostel –  about 20 – 22 euros per night (6 bed dorms) – 4 min walk to doca de Faro
HI Faro – Pousada de Juventude (youth hostel) – about 19 – 23 euros per night (4/6/8 bed dorms) – 13 min walk to doca de Faro
Dream House – about 24 -26 euros per night (4 bed dorms) –  4 min walk to doca de Faro
Hostellicious – about 30-34 euros per night (10/8/6/4 dorms, also twin and triple rooms to share) – 6 min walk to doca de Faro
Hostel Alameda Exclusive House – about 25-26 euros per night (8 bed dorms) – 9 min walk to doca de Faro
Female Hostel – about 30-34 euros per night (4/6 bed dorms) – 5 min walk to doca de Faro
 – 30€ per night 
Single and double rooms: 
Faro Cosy Guesthouse – about 50-77 euros per night for 2 (twin or double rooms) – 8 min walk to doca de Faro
Inn Faro – Casa Amarela – Guest House – about 53 – 62 euros per night for single rooms and about  68 – 77 euros for double or twin rooms – 8 min walk to doca de Faro
Hotels: 
Eva senses –  about 150-200 euros per night (single and double rooms) – 2 min walk to doca de Faro
Stay hotel Faro Centro – about 72-85 euros per night (single and double rooms) – 7 min walk to doca de Faro
Airbnb
Close to Gambelas:
 – 17 to 25€ per night 
In the city center:
Casa da Madalena Backpackers Algarve
– 70€ (currently discounted to 35€)